Sunday night at around 11:30PM I checked into the Cambria Hotel on Q Street in dc. I was in the shower at around 1:00 A.M. when a man with dreads wearing a blue shirt, jeans and a mask tried to violently break into my room. He somehow had a KEY to open my room door.
If it were not for the door stop, he would have been IN the room with me. He successfully opened my room door, repeatedly hitting the door stop and screaming "open the fuckin door let me in". I watched him out of the peephole as I pushed the door closed. He ran down the hallway.
I called the front desk not even a full minute later. The girl working said "I'm aware of the situation. That was housekeeping trying to get into the room he accidentally came to your door instead of the room next to you". In what world is housekeeping coming into rooms at 1AM.
She was EXTREMELY NONCHALANT and acted as if i man busting into my room while i am naked and alone is no big deal. The time period between me calling the front desk and him running away was not even long enough for him to make it back downstairs.
I told her to refund me and switch me to a different room because I DID NOT FEEL SAFE STAYING THERE. I paid over $500 for my stay in order to be in the area to attend an already traumatic family funeral and then had to have a random man breaking into my room at 1am.
Her reaction was very much like she was fully aware of what was happening and she did not expect to be caught.
She told me i would be refunded for my stay. After talking to management i was told i will not be refunded for AT LEAST 7-12 business days. Again it was past 1AM and i had nowhere else to go. I literally barricaded the door in the new room and was afraid for my life.
DC is one of the leading human trafficking cities in the country. When black girls go missing no one gives AF about us.
I already knew I was not going to get anywhere talking to her. MONDAY MORNING I RECEIVE THIS TEXT FROM THE HOTEL AFTER A MAN JUST TRIED TO BREAK INTO MY ROOM. THIS IS THE ONLY TIME THEY ATTEMPTED TO CONTACT ME.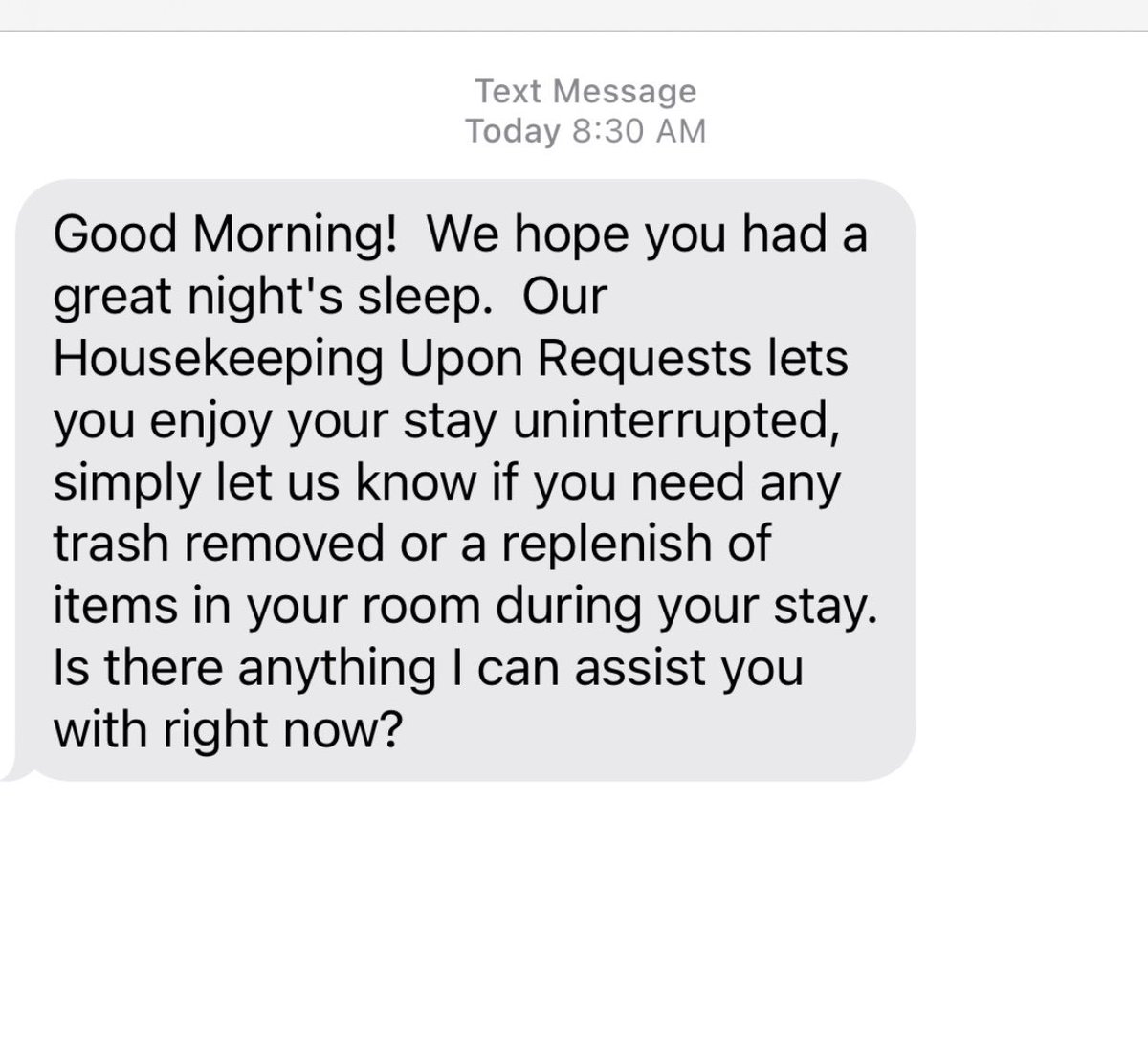 I go downstairs to management at NOON Monday morning. The manager seems SHOCKED that his employee told me HOUSEKEEPING was trying to break into my room. He said "I wanted to contact you but didn't want to call your room too early". IT IS NOON AND YOU HAVE NOT CONTACTED ME.
From the SECOND I PULLED UP TO THE HOTEL I DID NOT FEEL SAFE AND I WAS BEING MONITORED!!!!!!!!!!! The hotel is SURROUNDED by construction and vans/totaled cars and car repair shops. Meaning if you were screaming no one would hear because of construction
As soon as I parked i facetimed my friend because it all felt OFF. There was a woman standing on the corner acting weird and as if she was being a lookout. She was watching me VERY hard as I was taking stuff out of my car. She had airpods in and was obviously on the phone.
As soon as I turned the corner there was a man sitting at a table a fee steps away from her in front of the hotel who was also on the phone. It was VERY OBVIOUS they were talking to each other and he was staring at me HARD as if he were plotting on me.
I check in and as I'm walking thru the lobby everyone felt VERY SKETCHY AND WEIRD. I get my key, get on the elevator and my key didn't work. At that point I was already ready to leave because I DID NOT feel safe.
Still on the phone with my friend I go upstairs to my room. I tell my friend I had to go back downstairs to get the rest of my bags but didn't feel safe. As I open the door to go back down there is a man standing halfway down the hallway STARING at me as if he is watching my room
He then goes into the housekeeping closet. This is NOT the same man who tried to break into my room. I go back downstairs and the weirdos are STILL outside. This time they are watching me even more aggressively than before. The man did not even try to hide it.
I get the rest of my bags and go upstairs. I talk to my friend for the next hour or so until around 1am then go to take a shower. As I am in the shower THAT IS WHEN THE MAN TRIES TO BREAK INTO MY ROOM. If it were not for the door stop, i probably would not be here.
This entire experience has been EXTREMELY, BEYOND triggering for me, ESPECIALLY CONSIDERING 1. I know 2 women personally that have been kidnapped, raped and murdered. I loved them VERY much and they were my friends.
2. I am STILL actively getting death threats, as I have been for literally over 365 consecutive days. I even received a human trafficking threat from an anonymous twitter account in July 2020.
3. This is literally every womans worst fear. It does not matter what guns we own or how much we protect ourselves if someone intends to hurt us THEY WILL.
4. I was already in the area to attend the funeral of a family member who died very suddenly and tragically.
No I AM NOT ok. I have not been ok at all. I already have very bad anxiety. This has all been really really triggering and traumatizing.
And I did not post about it on twitter when it happened because my account was suspended (and idk why). I did post everything on my Instagram story.
In WHAT WORLD IS HOUSEKEEPING: 1. Coming into guests rooms, ESPECIALLY AT 1AM.
2. SLAMMING THEIR DOORS OPEN SCREAMING "OPEN THE FUCKIN DOOR, LET ME IN"
3. ENTERING ROOMS WITHOUT KNOCKING FIRST AND SAYING "HOUSEKEEPING"
4. ENTERING GUESTS ROOMS WITHOUT AT LEAST CALLING AHEAD.
Then for management to:
1. NOT contact me IMMEDIATELY if they KNEW housekeeping accidentally came into my room, apologize and explaining the situation.
2. NOT contact me the following morning except via TEXT???? A hotel has NEVER texted me anything like that before.
For all I know that could have been ANYONE texting me. It could've been the man that tried to break into my room. Like wtf!!! And YES I recorded EVERYTHING.
AFTER I TALKED TO MANAGEMENT MONDAY MORNING AND WENT TO MY CAR THE MAN WHO WAS STARING AT ME ON THE CORNER WAS STILL OUTSIDE PRETENDING TO BE ON THE PHONE. this is NOT the same man who tried to break into my room
Telling women to "get a gun" is NOT AN END ALL BE ALL SOLUTION. YES I HAD MULTIPLE WEAPONS. HOW WAS THAT SUPPOSED TO HELP ME WHEN I WAS IN THE SHOWER AND THEY WERE ACROSS THE HOTEL ROOM FAR FROM ME?????????
They ALSO REFUSED TO GIVE ME CORPORATES PHONE NUMBER.
NOT ONCE DID THE MANAGER APOLOGIZE FOR THE MAN BREAKING INTO MY ROOM!!!!!! HE WAS NOT AT ALL APOLOGETIC. THE ONLY THING HE SAID WAS I HAD TO GET A REFUND THRU @bookingcom . THAT IS ALL HE SAID!!!!
I WORKED IN A HOTEL OVERNIGHT BEFORE. NOTHING ABOUT THIS IS OKAY OR NORMAL AT ALL!!!!!!
Thank you to everyone trying to support me and showing genuine concern. I love you all a lot and I am really very grateful for you. These last couple days have been extremely triggering for me. I am with family now and today was one of the hardest days of my life.
Sorry if I do not reply I am just trying my best to be ok right now but I really am not.
Let me also add, the man who tried to break into my room and all of the employees excluding the manager were black. The manager was white. Not that that changes much of anything at all.
Also for the picture of the man with the dreads, I honestly don't know if it's the same person.
ALSO LET ME ADD: IN THE FIRST VIDEO, I told the girl from the front desk to give me a new room. She said she would come upstairs to give me the key (which she did). In the video you can hear her say "I went to check the room and make sure everything is ok".