THREAD: You didn't hear about this. But last week, as every news outlet allowed police to use "rise in homicides" to argue for more punishment, the most robust criminological study in history was released. "Incarceration cannot be justified on grounds it affords public safety."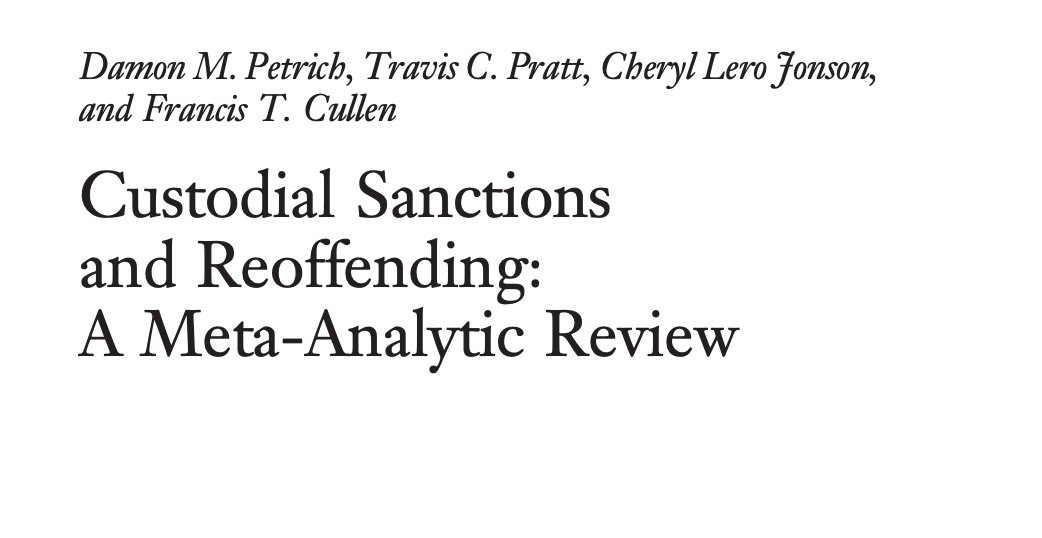 "Beginning in the 1970s, the US began an experiment in mass imprisonment. Supporters argued that harsh punishments such as imprisonment reduce crime by deterring inmates from reoffending. Skeptics argued that imprisonment may have a criminogenic effect. The skeptics were right."
Researchers & criminologists, including the research director for Harris County (Houston) Community Supervision & Corrections Department reviewed *116 studies.* Called a "meta-analysis," this format reviews a range of other studies across time, geographies, & methodologies.
"Previous narrative reviews & meta-analyses concluded that the overall effect of imprisonment is null. Based on a much larger meta-analysis of 116 studies, the current analysis shows that *custodial sanctions have no effect on reoffending or slightly increase it.*"
"All sophisticated assessments of the research have independently reached the same conclusion. The null effect of custodial compared w/ noncustodial sanctions is considered a "criminological fact."

Translation: Prison does not make us safer. Indeed it makes society less safe.
This report just out from U. of Chicago tells us, w/o doubt, that incarceration, this "solution" we spend billions on, is not a solution. It is a failed experiment. And that if officials actually care about safety, they should not be supporting it.

https://journals.uchicago.edu/doi/pdf/10.1086/715100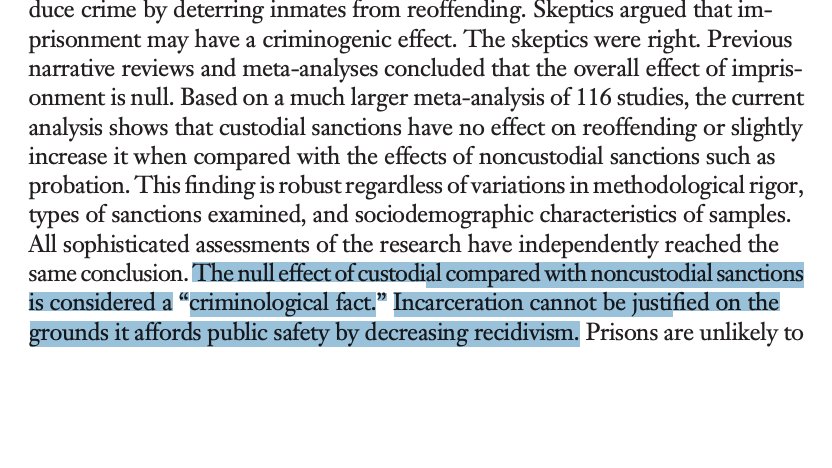 This report just out tells us, w/o doubt, that when police, prosecutors, & other pro-carceral forces try to terrify you into believing more prison is good policy, they're really just hungry to cage, torture, & brutalize more people on a massive scale. https://www.journals.uchicago.edu/doi/10.1086/715100
This study--the most robust study on the topic of incarceration in history--firmly debunking the myth that prison makes us safer, should be the biggest criminal justice news of the decade. The findings should be on the cover of every major newspaper. Top of every news show. Why?
This study debunks a half-century of failed, racist, historically costly policy that has become the status quo. Even though advocates & activists & true experts--not police, prosecutors, or their consultants--knew this, & have been shouting it for decades, there is now data.
I wrote here about how all major outlets spent a week searching for causation to a short term rise in homicides. And how trying to speculate about "short run" statistics is both impossible & dangerous. Long term data, however, should be reported on. https://www.thenation.com/article/society/crime-reporting-failure/