The ruling class "imperative" to save, rebrand & expand the capitalist system, is coming down like a sledgehammer over our collective heads. The "#reset" social engineering & behavioral change campaigns have just begun. Know your enemy. This is #classwar.

Revisiting The #BTeam.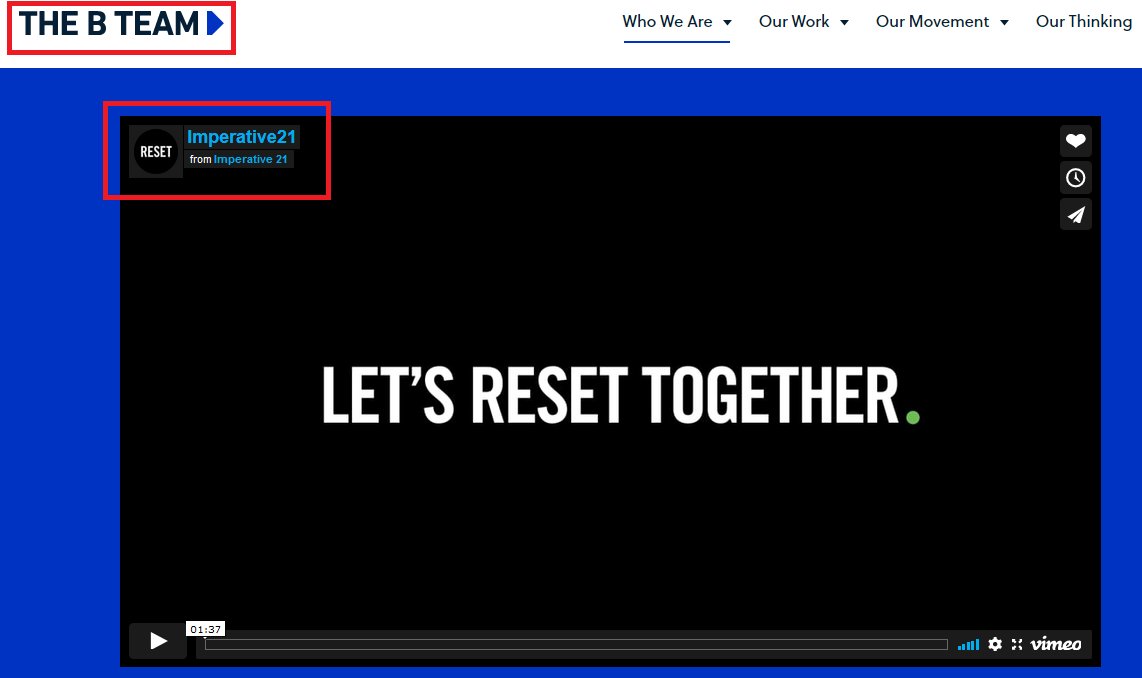 B Team: Founded by billionaire Richard Branson (Virgin) & Zeitz former CEO of Puma, co-founder of eco-luxe lodge Segera Retreat & the Zeitz Foundation in #Kenya.

Managed by PR firm Purpose co-founded by Heimans (Avaaz, "New Power", Share Verified).

http://www.dotwnews.com/lodges/jochen-zeitz-from-puma-ceo-to-the-wilds-of-kenya
Benioff: Founder, CEO of #Salesforce. B Team Leader. World Economic Forum's Board of Trustees member. Inaugural Chair of WEF's Forum Center for the #4IR. Owner of TIME magazine. Co-founder of Breakthrough Energy w/ Gates et al. (nuclear, #CCS)

#GreatReset

#IngkaGroup is #Ikea

#BTeam Leader Kathy Calvin, CEO of UN Foundation.

The UN Sustainable Dev. Goals (#SDGs/Global Goals) must be understood as #emerging #markets.

NRG "So as we look to build a cleaner energy future, responsibly operated #nuclear plants will only add to the grid's fuel diversity"
"#NATURE. The #investment of our lifetime"

Resetting the capitalist system under guise of climate mitigation & reversing biodiversity loss. The very corps/entities that have plundered the planet need you to believe that they will now save it. #sociallicense.
#NewDealForNature
Okonjo-Iweala: Chair of #Gavi: The #Vaccine Alliance. Former Finance Minister for Nigeria & Former Managing Director of the #WorldBank. Serves on #BTeam #Africa Network Steering Comm., Climate Working Group & Co-Chair of B Team's Governance Working Group."

Pen$ions 4 #GreatReset
John Elkington, Co-Founder & "Chief Pollinator" at Volans. Signatory of short-lived XR Business. Faculty member of World Economic Forum, 2002-2008. Author/co-author of 19 books, the most recent titled "Green Swans: The Coming Boom in #Regenerative #Capitalism".

#Nature4Sale
B Team's Christiana Figueres: Founding Partner of Global Optimism, Convenor of Mission 2020 (financed, aligned w/ We Mean Business). Former Exec. Sec. of the UNFCCC (2010-2016). Extensive bio & affiliations.

#TheyMeanBusiness #WorldBank #Unilever #WRI #Nature4Sale #GreatReset
"Time Well Spent, marketed as a "movement", operates in conjunction w/ Thrive Global. Founded by Arianna Huffington & launched on Nov. 30, 2016, Thrive Global is a #behaviouralchange media & #technology venture headquartered in New York...":

http://www.wrongkindofgreen.org/2020/10/28/its-not-a-social-dilemma-its-the-calculated-destruction-of-the-social/

#GSMA #5G
B Team has been a part of my research/writing over many years as they are co-founders of We Mean Business, & were instrumental in the development of "the first global, standard Natural Capital Protocol w/ Natural Capital Coalition.

#PaymentsForEcosystemServices #Nature4Sale
We Mean Business: (24.8 trillion market cap): co-founded by The B Team, Business for Social Responsibility (BSR), CDP, Ceres, The Climate Group, The #Prince of #Wales's Corporate Leaders Group (CLG) & the World Business Council for Sustainable Development (WBCSD).

#GreatReset
The Manufacturing of Greta Thunberg – for Consent: They Mean Business [Volume II, Act IV]

"If power dominated through hierarchy & coercion – the emergent "new power" model dominates w/ influence & persuasion."

#GreatReset #GoalKeepers #EmergingMarkets

http://www.wrongkindofgreen.org/2019/09/17/the-manufacturing-of-greta-thunberg-for-consent-they-mean-business-volume-ii-act-iv/