09:55 At the Lagos State #EndSARS Judicial Panel of Enquiry.

It's one month since the morning of the "powers above my control" speech, and we may finally be watching the footage from the night of #LekkiMassacre.

The military are here, so are the lawyers. And lots of cameras!
10:07 I know, I know. I said I would be away today. But I overslept a 4AM travel time for the first time in my life and missed my flight.

So here I am.

By the way, still follow @SeyitanAtigarin's report. She's a real journalist, unlike some of us.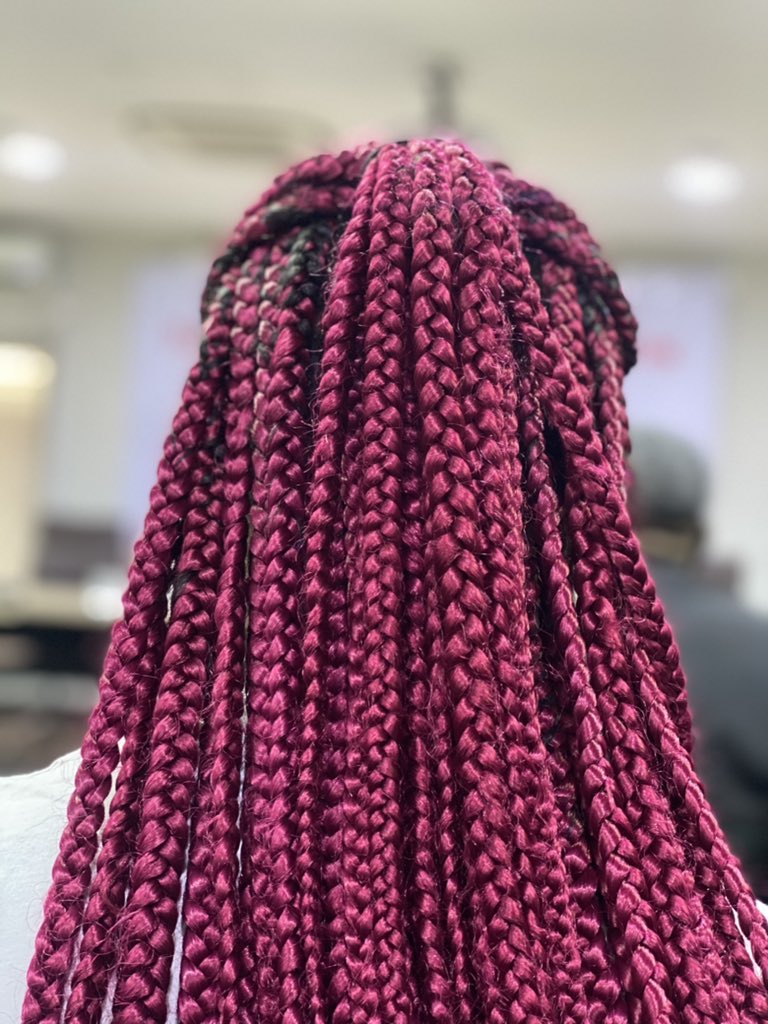 10:13 The bag is out! You know what that means. We may be breaking a punctuality record today.
10:27 The punctuality record for the panel is 10:21. That was the first day the Army made an appearance.

We aren't breaking that record today, but the panel is here, 6 minutes off that 10:21 record.

Mr. Ebun Adegboruwa is not here again. Trying to figure what is up with him.
10:30 LCC have been called, as their testimony and video has import on the Army's testimony.

LCC MD is here. Late, but here all right. LCC and LASG legal are here.

For #Endsars, we have Mr O and the retired boxer, Mr. Fusika.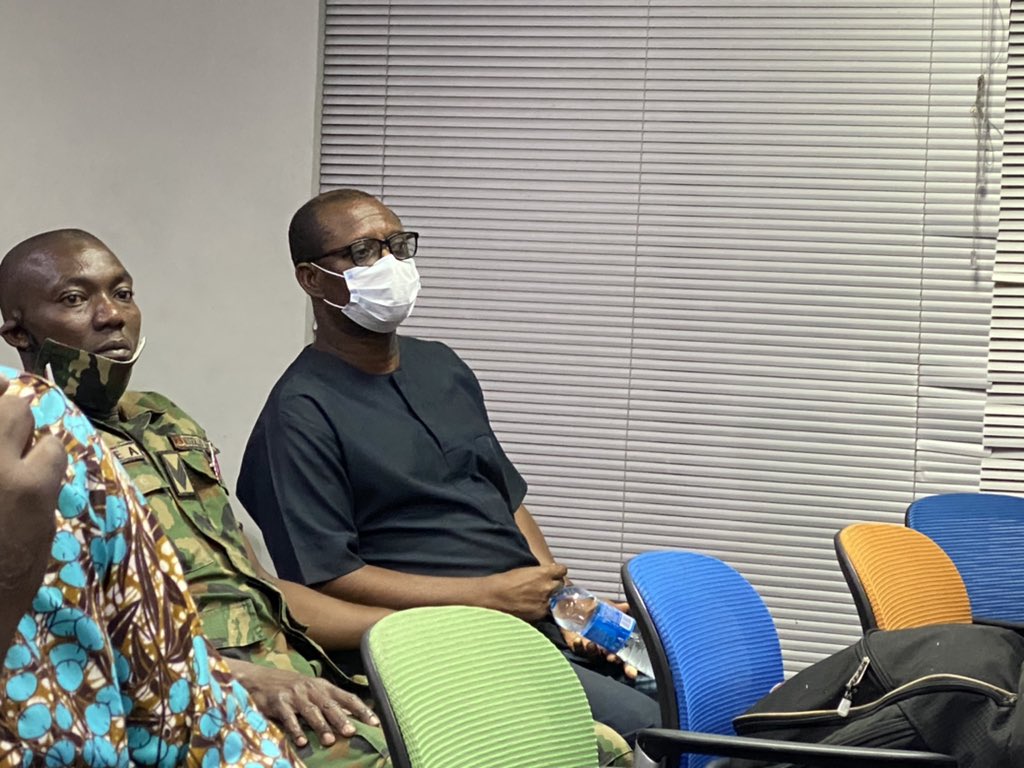 10:38 Mr. O is up now to speak to the integrity of the video supplied by LCC.

Mr. O seems to suggest we watch per minute footage, 4PM - 7:58PM. Owonikoko, SAN agrees.

Going to be a long ride.
10:46 NEPAAAAAAAA!!!! NEPA have taken light.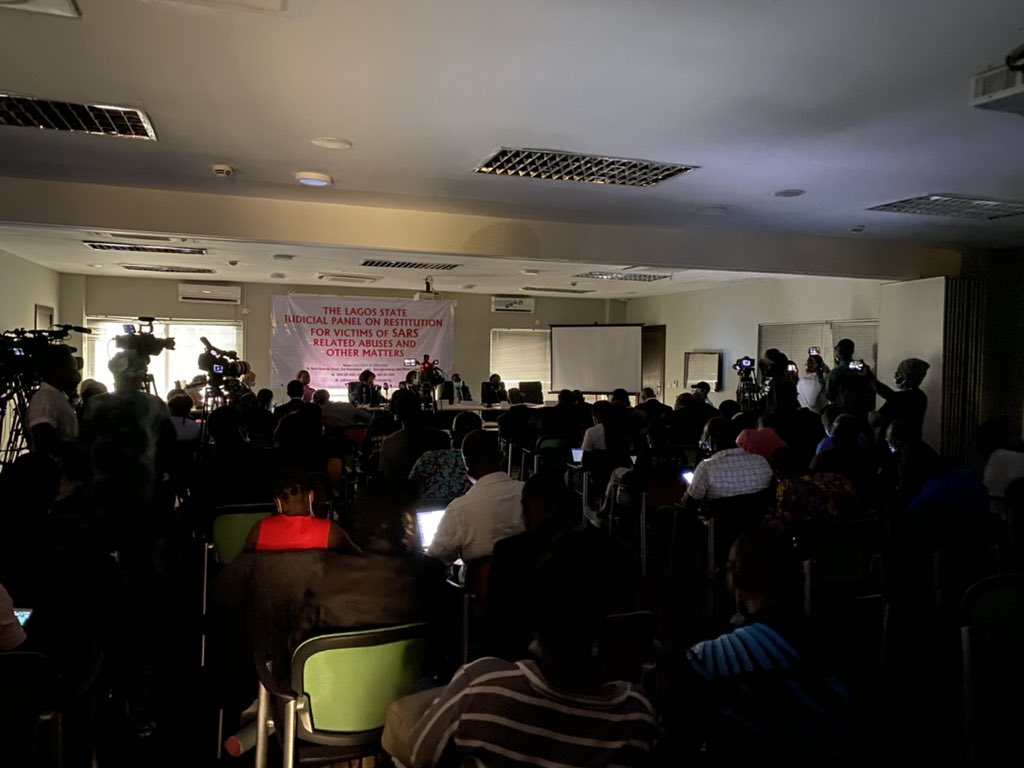 10:47 UP NEPAAAAAAA!!!

Power is back! The LCC video is being played from 5pm.
10:54 As with the first day, when the footage was shown, the strategy is to show the protests were peaceful.

Another important point is that so far, the camera is as being panned automatically. But the #EndSARS lawyers believe later on, it was being operated manually.

Why?
11:02 If you look at the video, every time the camera pans, it shows "PRESET #" at the bottom right (# = Number).

That's because the camera movement is programmed. It's believed that later on, the preset were overridden by LCC staff.

But LCC say all staff were gone by 4pm.
11:30 The CCTV video we are watching isn't ghen ghen like the CNN one. It has no sound. So people are falling asleep. Lady in frame 4 is jejely drinking her Fanta.

Man (and woman) definitely more be wood.

Meanwhile, 17:55 on the CCTV now playing.
11:51 we are at 18:05 of the CCTV clip now. So far, no hoodlums trying to burn down Oriental Hotel as alleged by the Army testimony. Just people milling around.

We've also noted on human intervention in the video preset movement. This confirms LCC staff were at work past 4pm.
12:00 At about 18:12, the crowd is growing at the toll gate. More people actually arrived after the 4PM curfew time (although the curfew did get push to 9PM).

Still no hoodlums.
12:22 It's now 18:37 on the video. People are milling around, nothing serious going on.

In a way, it feels like the quiet before the storm. Military is believed to have arrived about 18:55.

That's also when it's believed the LCC staff took over manual camera control.
12:29 Scratch last tweet. 18:41 is about when the military arrived.
12:30 At 18:43, protesters running away, not stoning the military as has been alleged.
12:36 As at 18:48, the video is being handled manually. You can see from the changes that it's no longer preset.

LCC had claimed all staff left the facility. The video shows this to be untrue.

Also, power is off in only one section - the security lights. All other lights on.
12:38 The guy showing the video has technical challenges. The audience starts "Something is wrong". People here are highly suspicious of government.

But the video is back. 18:49 military are sweeping the area. Some protesters run away. Others gather (this video is silent).
12:43 Please note the image from the video. The lights on the express lane are still on, while the lights near the toll gate are off.

18:52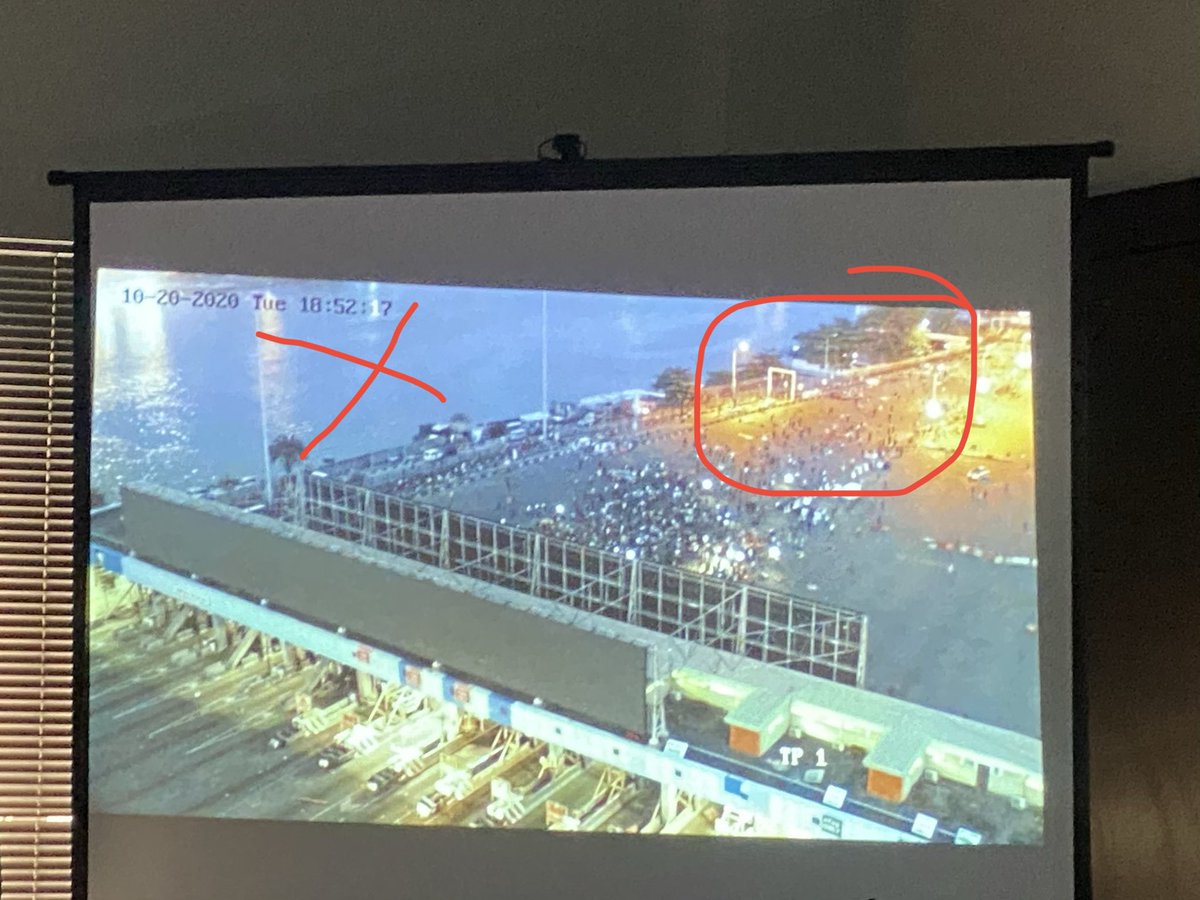 12:45 At about 18:52, the video was switched to black and white format. While we lost colour, we can also see clearly.

The video is fully manual. There is power at the toll gate.
12:47 We just saw the 18:56 moment when the lights on the express lane and beyond were turned off.

Some military trucks have crossed to the protesters' side of the toll. A bullet is seen flying though the air. From what we were told, blanks don't have that kind of trajectory.
12:52 About 19:00 is the last stand. The military move in and the crowd starts dispersing.

Lower right of the screen are soldiers moving into position as protesters vacate. This matches what was seen in social media videos.
12:54 At about 19:04 the military have almost complete control of the central area where protesters were.

Protesters have run to the far left and are mostly moving towards Lekki. Soldiers take over vacated space.

(Vehicles with blinking lights are military).
12:57 At 19:06, we have 4 military vehicles in formation, pushing the protesters out of the toll gate area, with only one way to go - Lekki.

The vehicle top right ensures protesters don't cross to the side near Shoprite.
13:00 We are looking at 19:09 on the video. While a most of the protesters have run towards Lekki, a small group is huddled by the toll gate (lower centre), right where they were before.

We suspect this was the group where DJ Switch was.

Military vehicles now facing that crowd.
13:04 It is now 19:14 on the video. The military vehicles have surrounded the small crowd. One vehicle is high up Lekki Expressway (top right). This will be important later.

Also important to note vehicle lights are pointed away from the crowd. There's still power at toll gate.
13:11 An important point in the video - 19:22. On the top right, a large dynamic light source is seen top right.

That is a fire, and the military vehicle is right beside it. Recall the vehicle up the highway.

The military was in control of the area when the fire started.
13:16 We have just seen the gun flares in the direction of the protesters - 19:23.

Protesters now running toward the lagoon side of the plaza.

Please note that nothing is certain from this video orientation and resolution.
13:25 It's all dark at the toll gate.

19:34 A momentary light from a vehicle showed protesters still running into the slum settlement beside the tollgate.

Military in full control. Fire blazing up the road. Toll gate still has power, but security lights off.
13:48 There is calm at the toll gate. Only military vehicles and personnel fully in control of area.

Camera not roving because protesters are gone.
13:53 The LCC had said the CCTV stopped recording at 20:00 but it's 20:03 and the video is still going.

Scratch that. 20:04.
13:59 The video finally ends.

Mr. O quickly notes that there is a missing clip on the TP1 file we were shown, which is in the TP1 Full folder. About 20 minutes.

Chair says we will see that when they return from break.

Panel recess.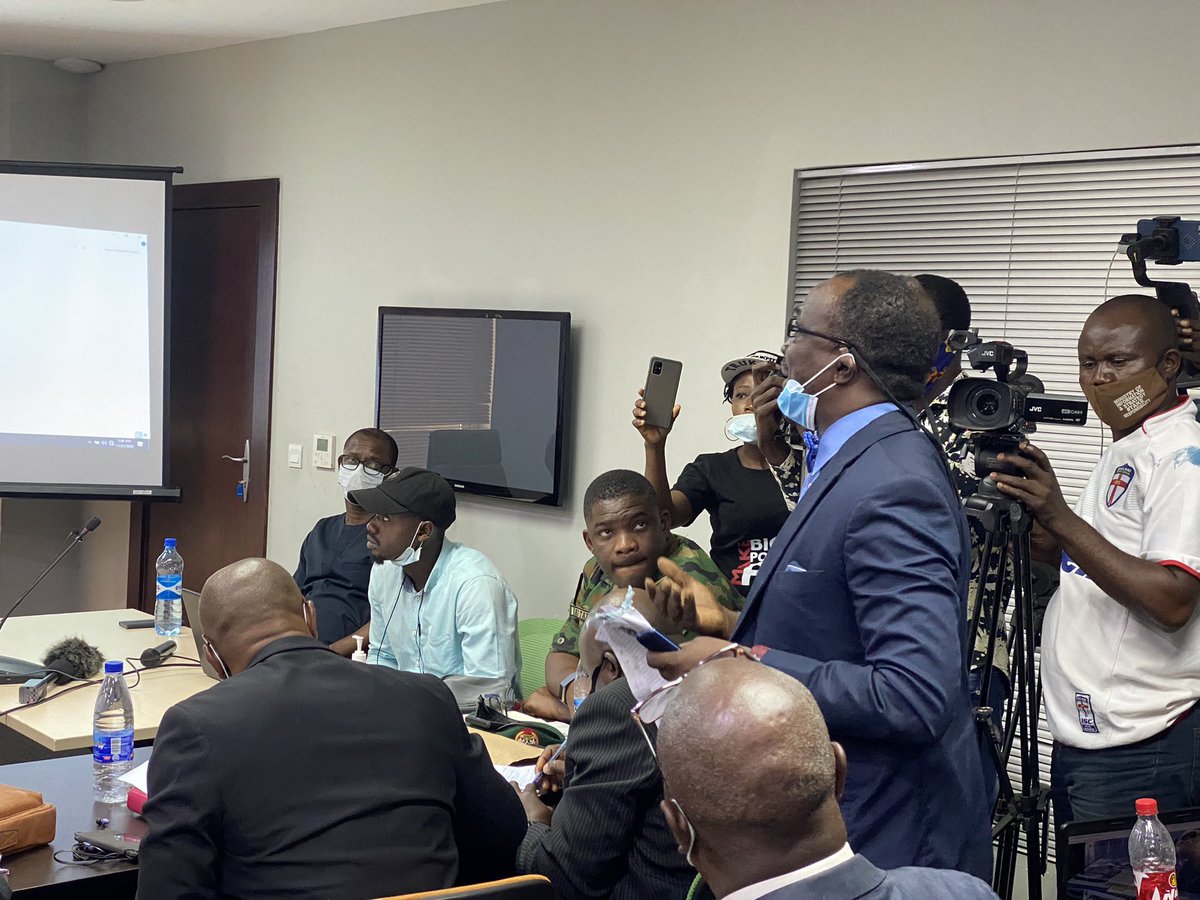 14:58 Panel is back. Army counsel is asking that his client be cross examined immediately, but Mr. O wants to have the 20-minute missing video watched first.

Legal handbags ongoing. Fusika + Mr. O vs Army counsel.
15:06 LCC counsel is also pushing for cross examination now, as his client, the LCC MD has travel plans that he's already postponed on account of the panel.

Audience groans. Someone says "How that one concern us".

PS: The police attorney (chin guard guru) is seated beside me.
15:13 Doesn't look like that extra video will be shown. The chair has ruled that Army witness is priority for cross examination.

General AI Taiwo takes the stand and is reminded of his oath.

Street Fighter Lawyer, aka Mr. Fusika SAN steps up.

Drama incoming.
15:16 "Does the burning of 3 police station mean Nigerian Police were overwhelmed?" ~ Fusika

Fusika asks how Army knew police was overwhelmed. Asks if Police IG informed Army that it was overwhelmed.

No.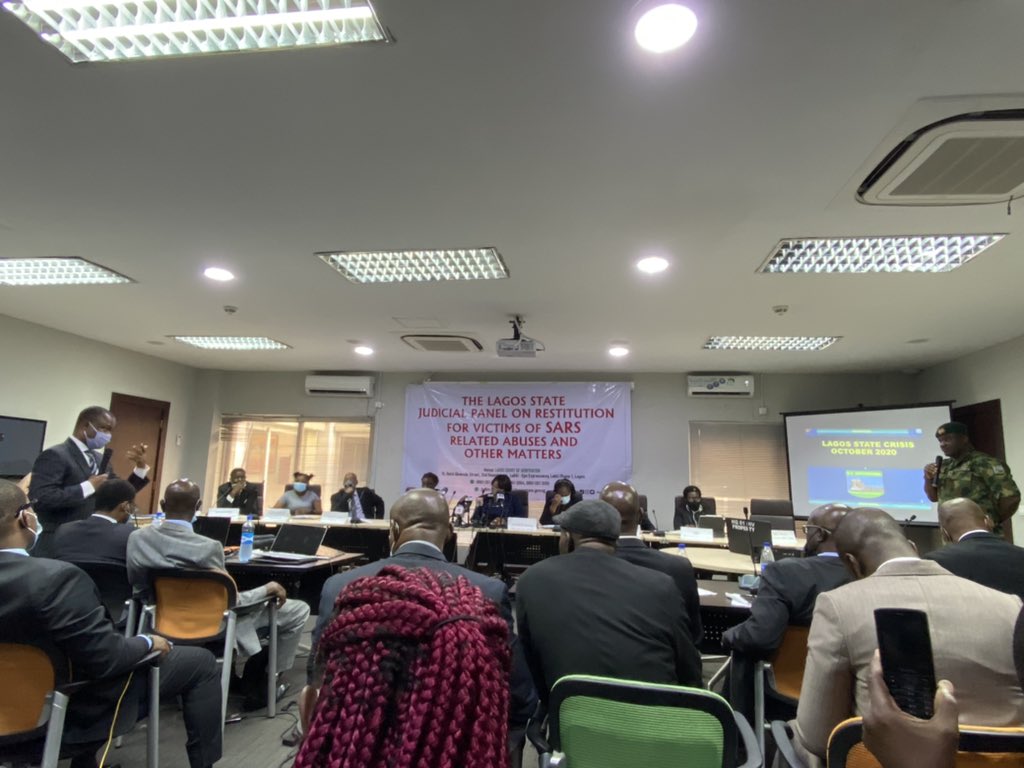 15:20 Fusika: General, you're an intelligence officer. I am just an ordinary lawyer. How many police stations were burned?

Gen. Taiwo lists a couple and says they were burned before 2PM on 20/10/2020.

Fusika warns that these are facts that can be verified. Army counsel objects.
15:22 Fusika asks how many police stations there are in Lagos, and where else there were #EndSars protests, apart from Lagos.

Gen. Taiwo says Abuja & Rivers. He also says police were overwhelmed because the protest was about police.

Fusika says it was about SARS specifically.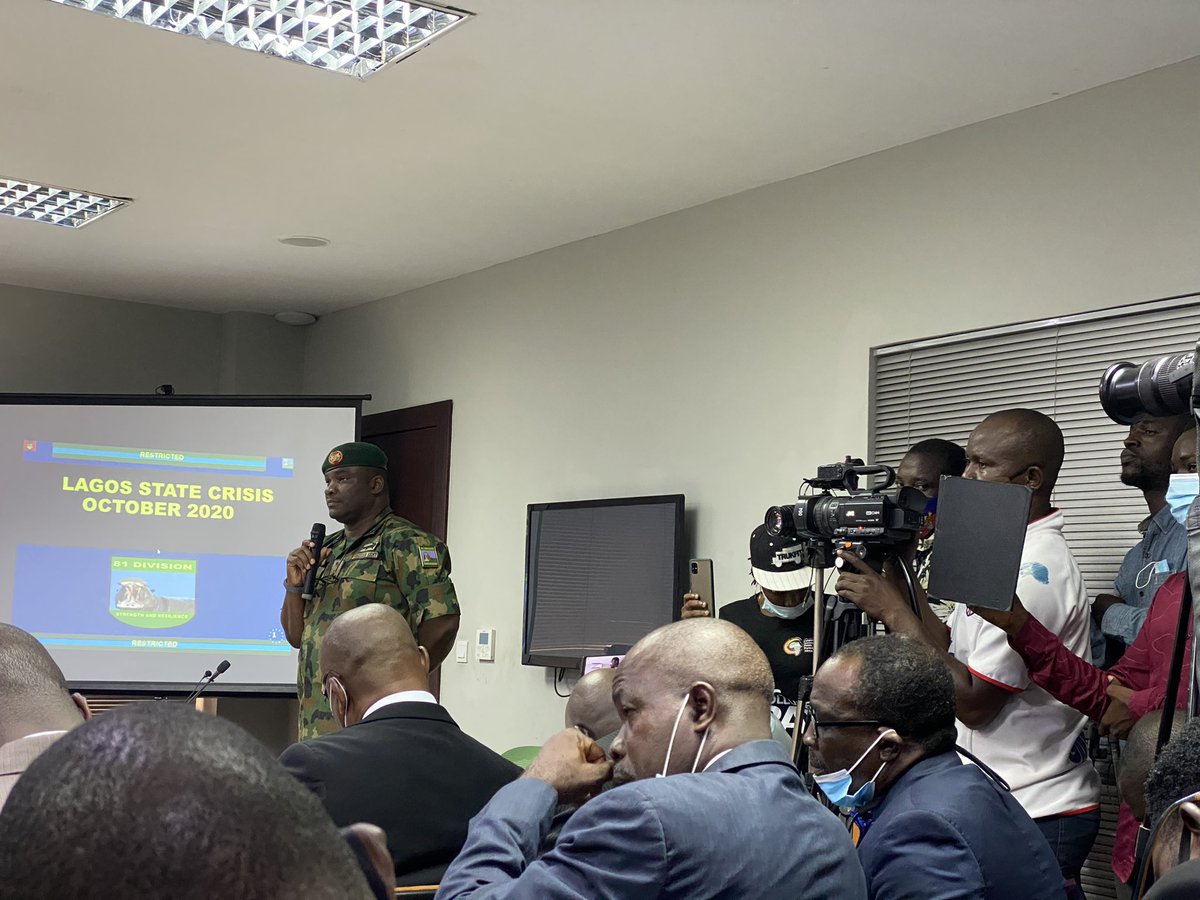 15:25 Fusika asks if the Oba's palace incident happened on 20th. Gen. Taiwo says 21st.

Fusika is slowly establishing that the burning wasn't reason army mobilized to Lekki.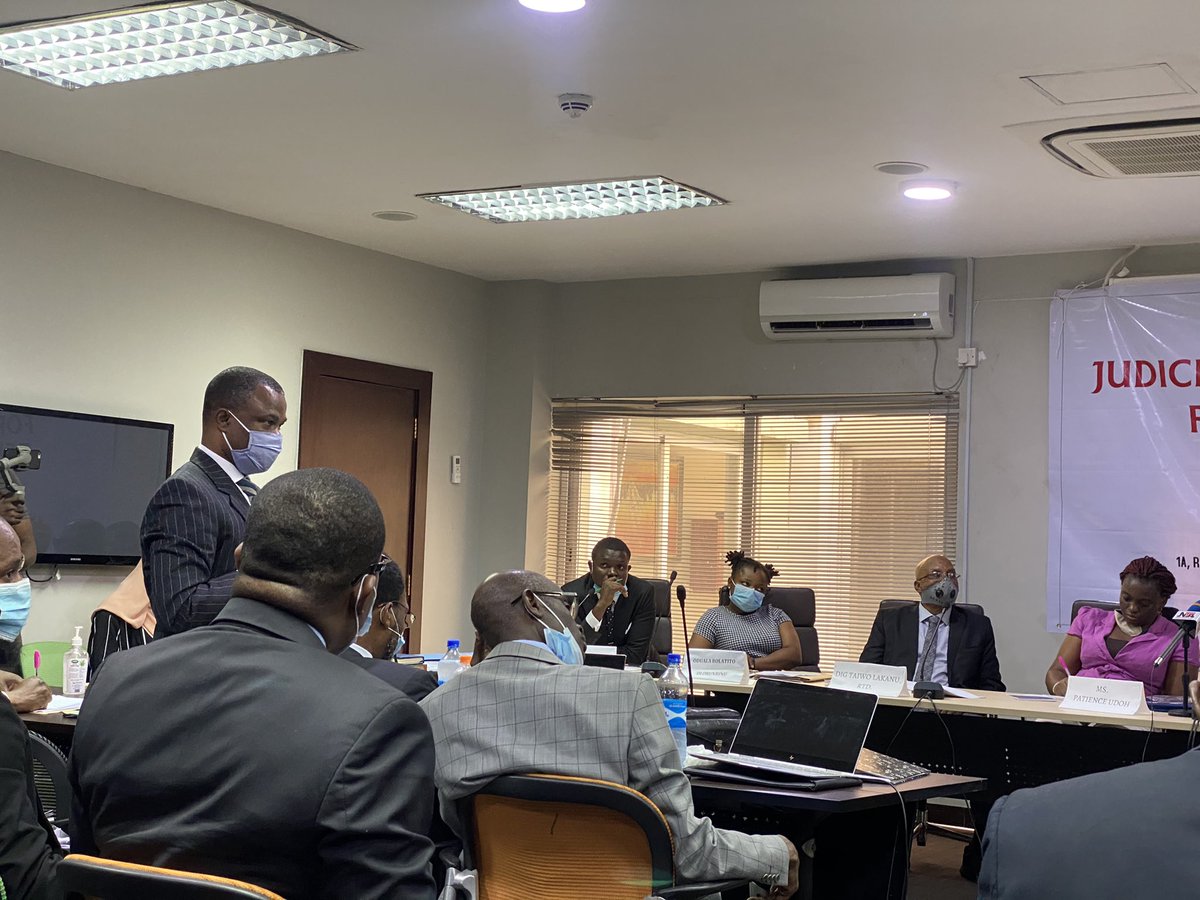 15:27 Fusika: Remember your friend at Spar?

Gen. Taiwo: He's not my friend.

Fusika: I'm trying to prove to you that there was no emergency that required for you to be at Lekki Toll Gate.

GT: You must be living on the moon.

Army counsel: Abeg

Fusika: I am not offended.
15:29 Fusika asks about the video of the policeman who was killed. Asked where the General got it from.

General says "from the internet", that 85% of videos in his deck were from open sources.

Recall, the government said internet videos were fake news.
15:32 Fusika says GT should be specific and not make General statements.

He'd asked which police station or the name of the officer he says were killed.

Fusika: Why do people tell lies?

GT: I don't tell lies.
15:33 Fusika: Do you know the army denied being at the toll gate?

GT: That was because we didn't have the full facts.

Fusika: Are you aware Nigerian Army denied being at the toll gate?

GT: The Army wasn't sure of what happened and nobody sent anyone to break up a protest.
15:36 Fusika is now talking about the disagreement between @followlasg and the Army.

GT believes there was a mix up because LASG didn't have full facts.
15:37 Fusika has cycled back to the denial of the Army.

He says that based on Army calling the incident "FAKE NEWS", Attorney General said anyone at Lekki Toll Gate in military uniforms were hoodlums.

GT has no response.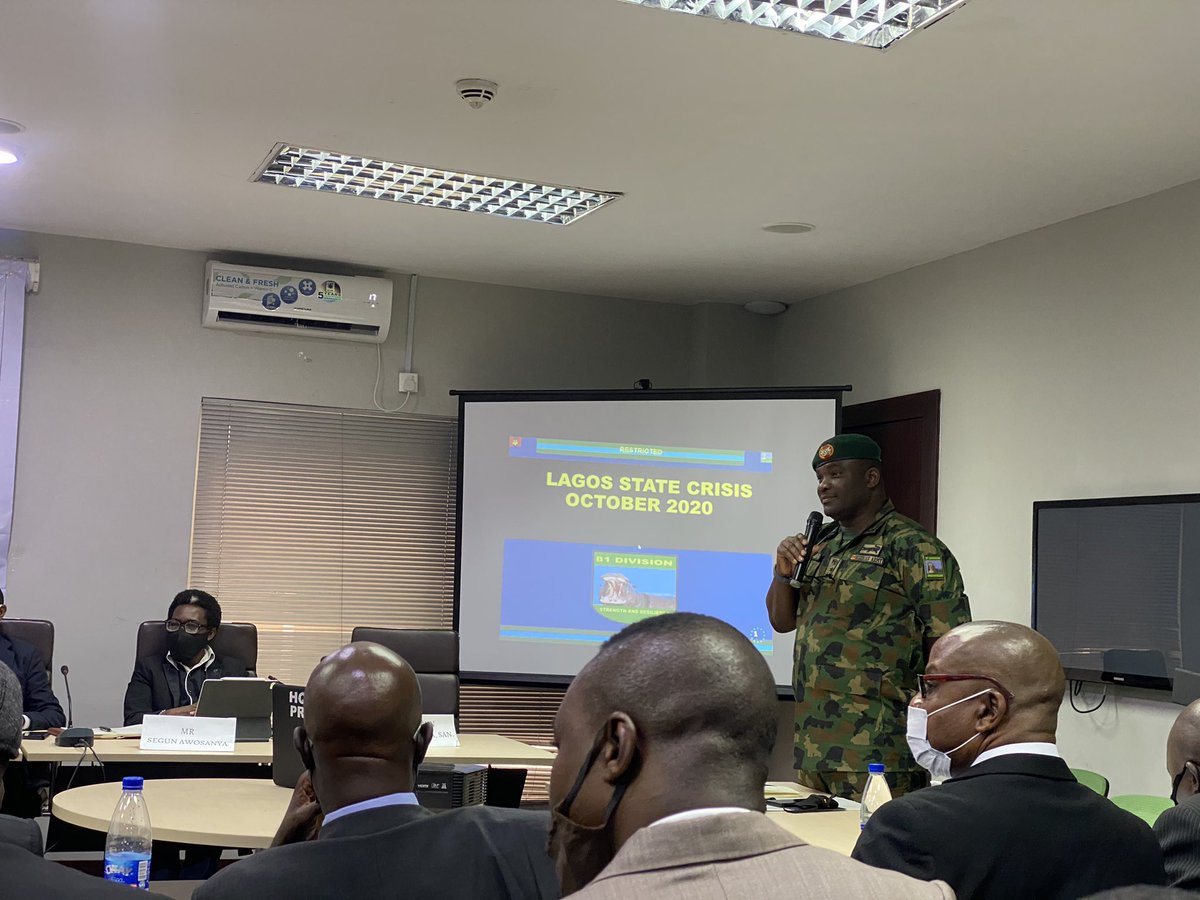 15:39 Fusika: Are you aware of the twitter handle belonging to Nigerian Army

GT: I am not on Twitter.

Fusika: Are you not an intelligence...

He retracts and asks how GT could be in intelligence officer and not be aware of the Army Twitter handle.

GT says he'll join twitter.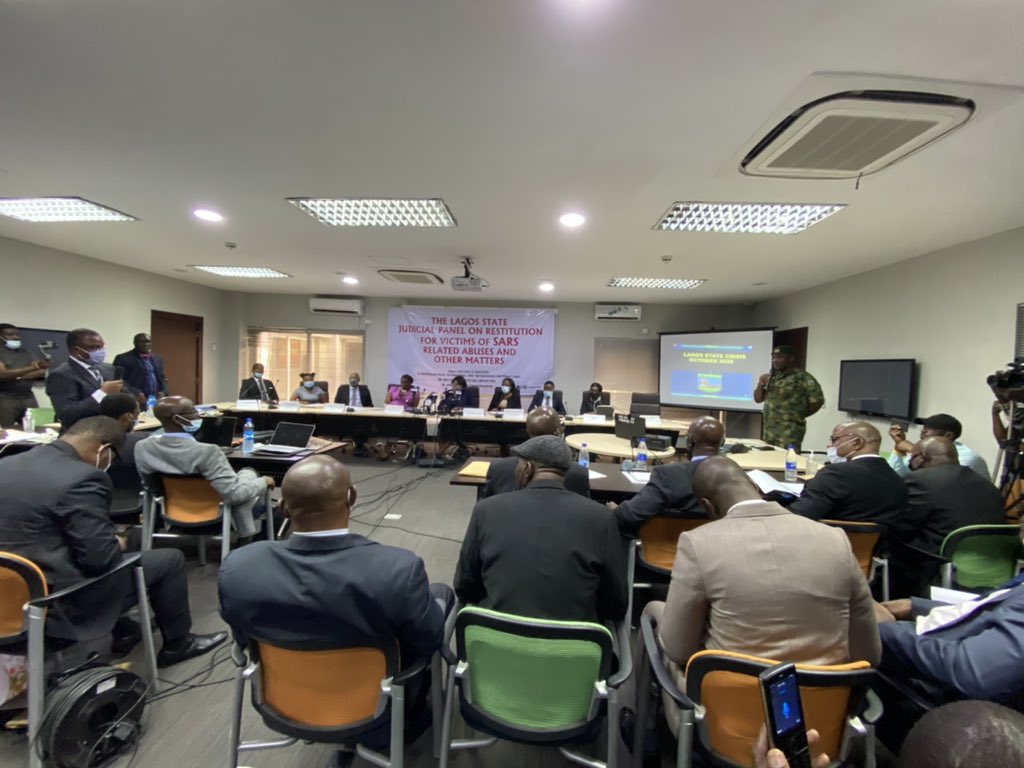 15:43 Fusika says the Army branded news that the Army was at LTG "FAKE NEWS". Also says the Army might pull that off the twitter handle after this.

Army counsel objects. Says Fusika is casting aspersions at the great institution of the Nigerian Army.

Fusika says sorry sah.
15:45 Fusika addresses the issue of hoodlums at the toll gate. He asks what kind of intelligence investigation was carried out.

GT alleges a baale was upset he only got N40k of N200k allegedly from LCC to spare the toll gate.

Fusika: The baale is a hoodlum?

Laughter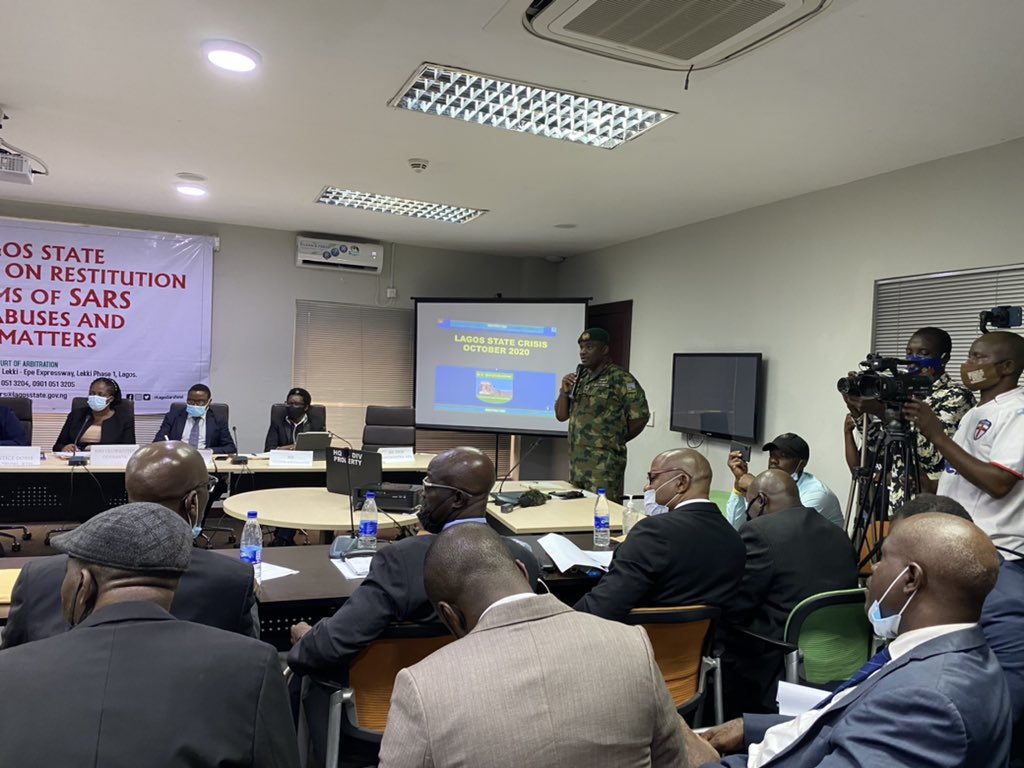 15:49 Fusika: When was this payment to baale made, which caused anger with the baale?

GT: 21/10/2020

Fusika: So on the issue of the toll gate burning, the suspects are known?

GT says yes, that report was made to police.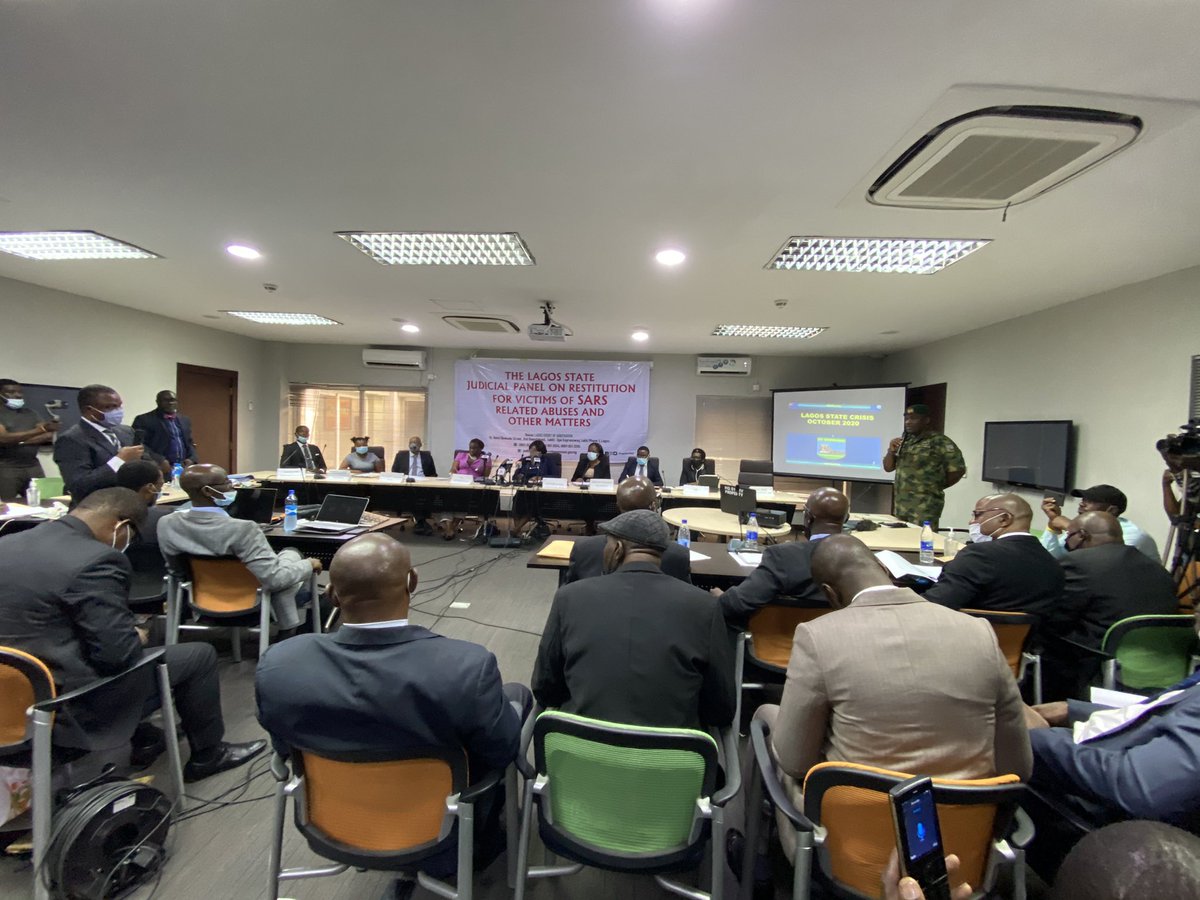 15:51 F: Are you aware the brother of a local task force officer was killed in Orile, which led to the burning of the police station?

GT: I don't know if you're saying the fact. But the fact is police stations were burnt.

F: Is this first time police station would be burned?
15:50 Army counsel objects that Orile or Alagbado should be the issue as we are investigating Lekki (Army included that in their report).

Fusika: Be calming down.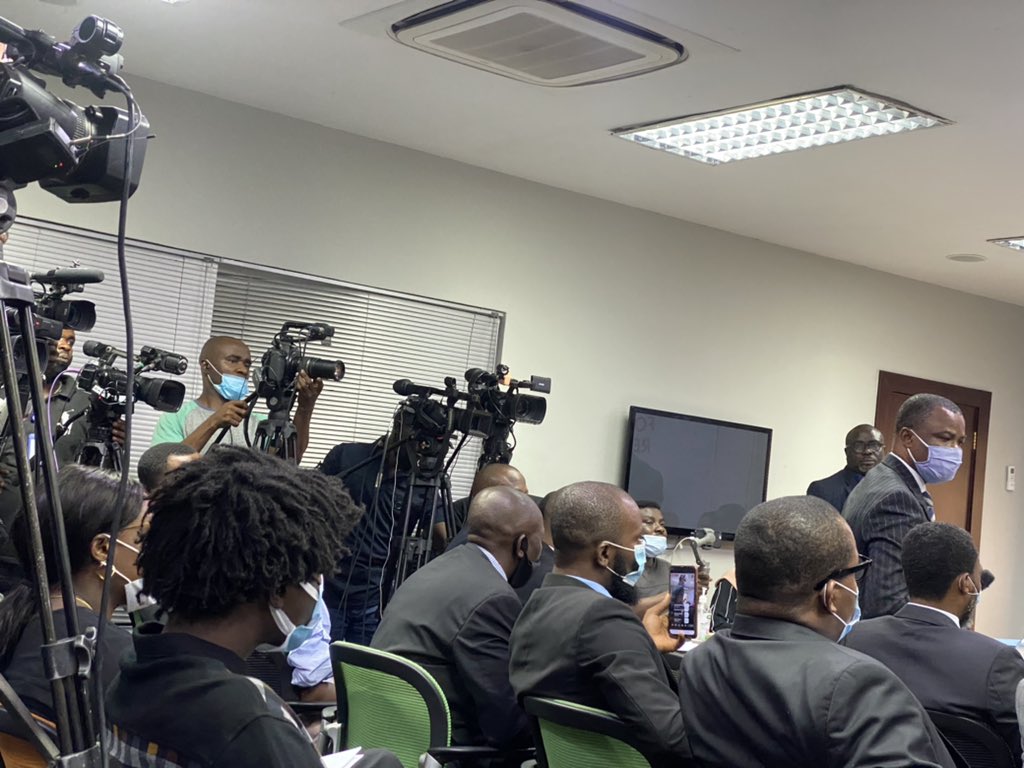 15:57 Fusika is asking about Oriental. We're there other uniformed organizations at the toll gate when you arrived?

GT identifies that police were there.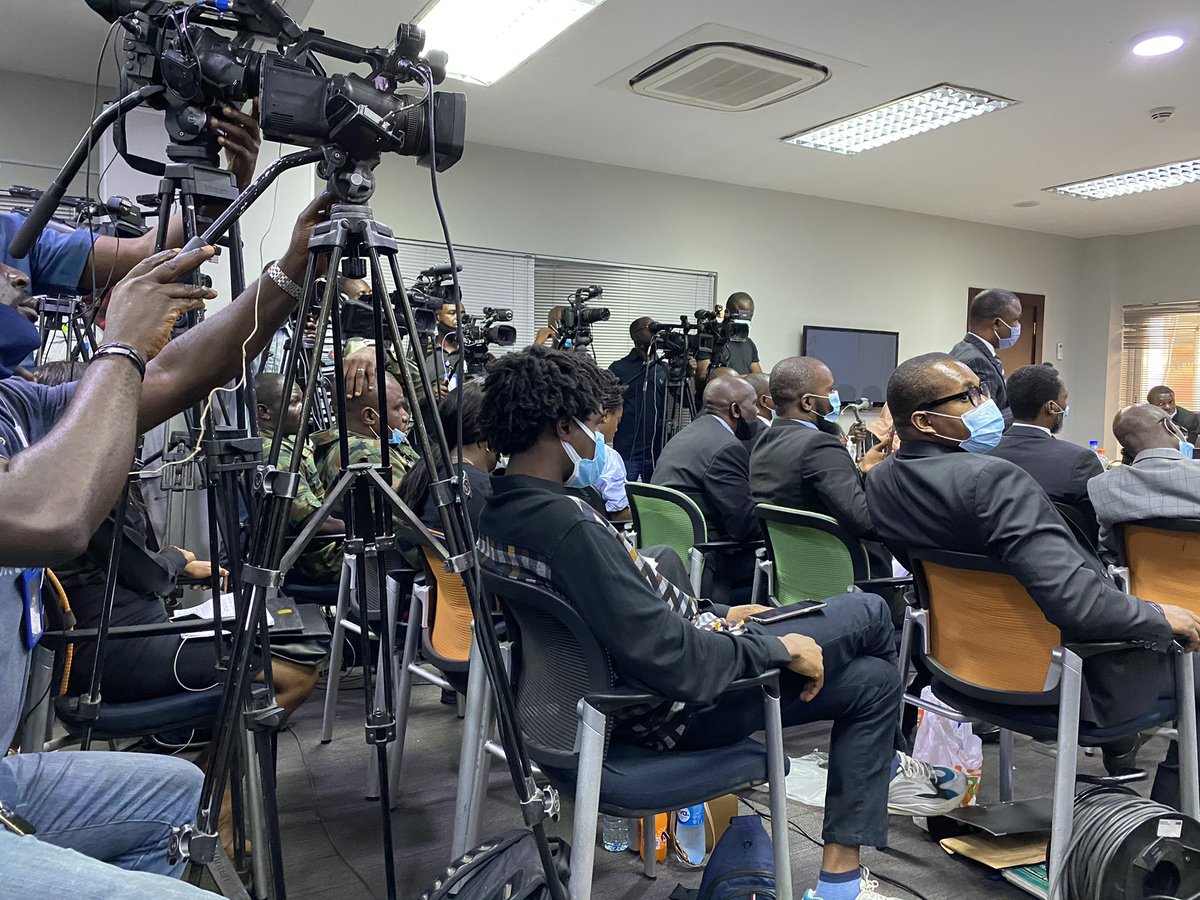 15:58 Fusika: We have seen on the footage that the Army did nothing after arriving until it was dark.

GT denies.

Fusika: That's for the tribunal to decide. He does restate that Army waited until there was darkness.

GT: It's absolutely untrue.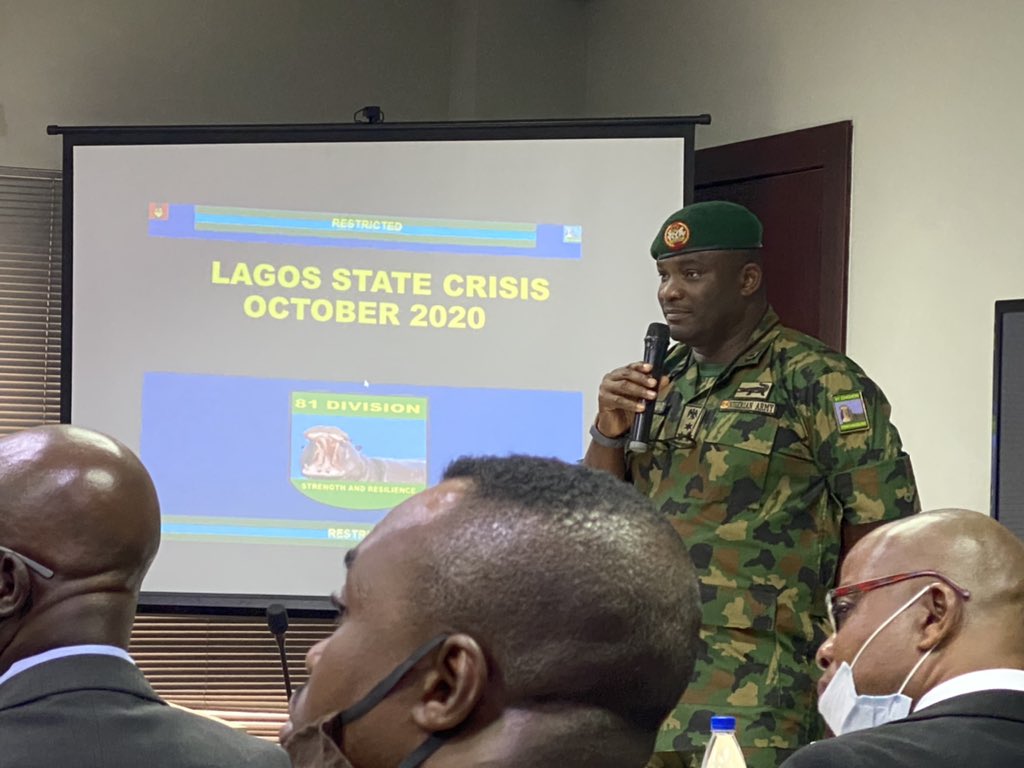 16:00 Fusika: What did your soldiers carry to LTC?

GT: High caliber rifles.

F: Did some of your soldiers carry live rounds.

GT: The firing team only had blanks. Some had live rounds to protect the team.

F: You didn't mention water.

Army has said they shared water.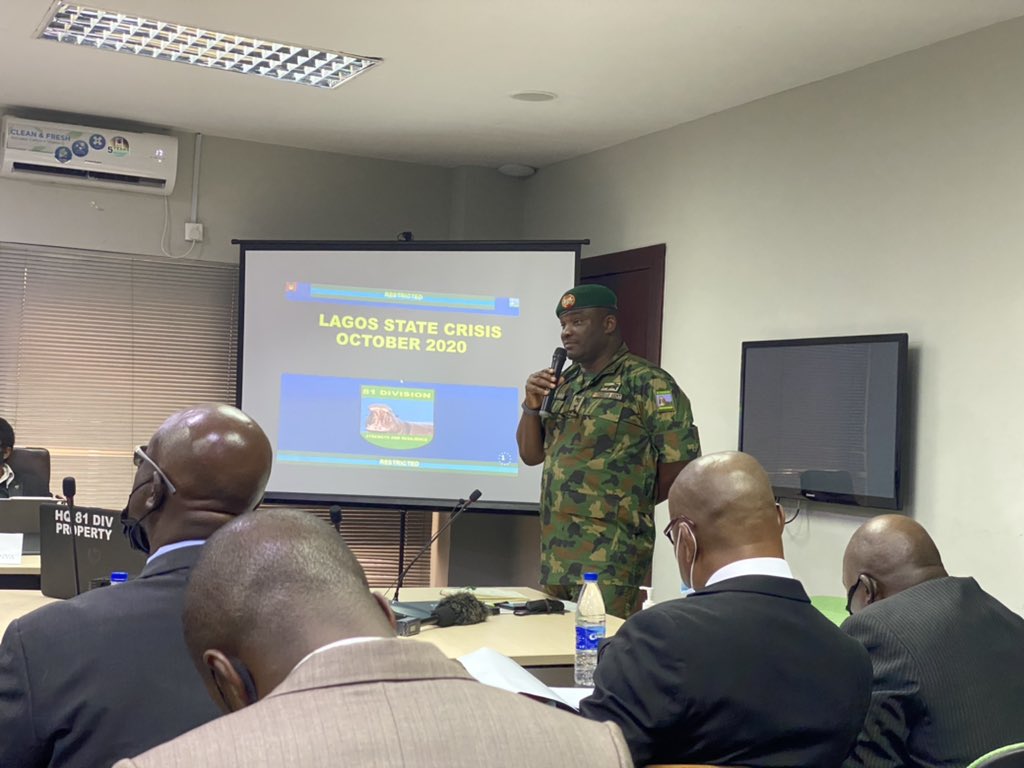 16:02 Fusika: Would you be surprised to know that the people sharing water were Naval officers and not your men?

GT: It's incorrect information.

Fusika says the panel will decide if that's true.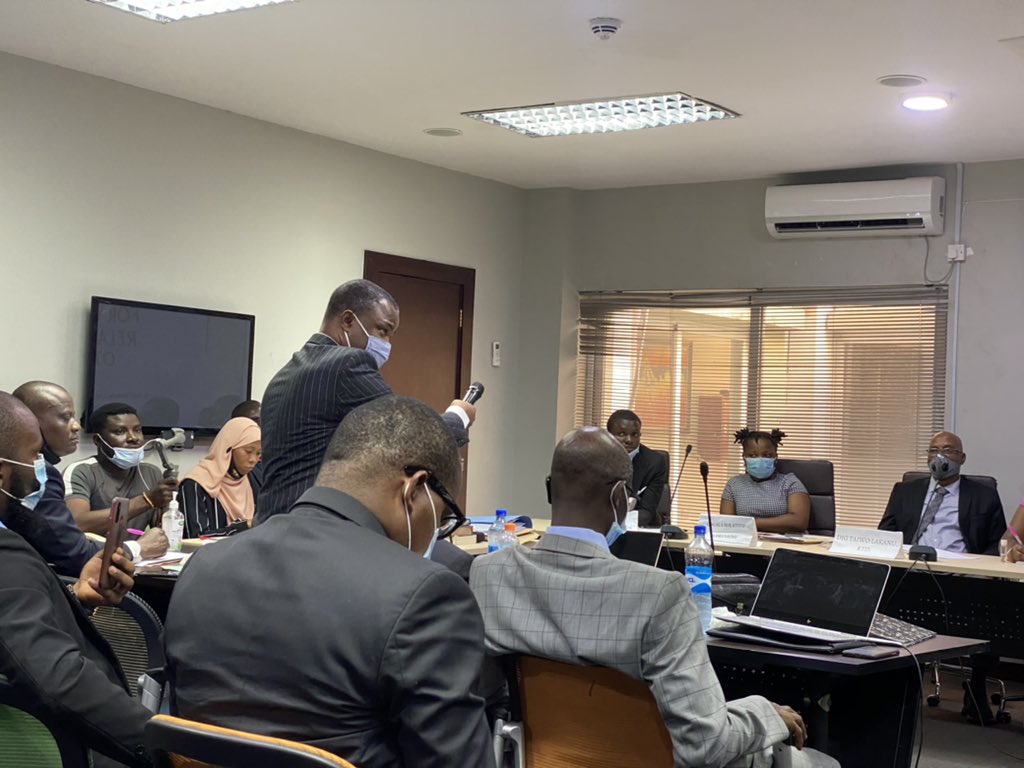 16:09 Army says the CCTV shows protesters moving aggressively towards the Army.

Fusika reads notes showing Army said they were pelted and stoned. He's saying the video did not show Army being stoned.

He has a point. Crowd is looking like this
16:12 Fusika asks about the direction of Army guns. He says Army also said it only used blanks, which could not hurt people.

He asks what would make soldiers shoot into the air if they had blank charges.

He says soldiers were stoned.
16:14 Fusika says there's no way out on this one - asks if the footage shows Army being pelted. GT says yes, right at the time they dismounted.

Fusika says there was no point where stones were thrown. He may be blind, but protesters were running and had cleared VI end of LTC.
16:19 F: Did you arrest said hoodlums?

GT: No. they hightailed it.

F: Did any of your soldiers sustain an injury

GT: Yes.

F: What's his name?

GT: Uhhhhh

GT later identifies Major Saeed, that he was hit by a stone.

This lady just got kicked out for laughing too loudly.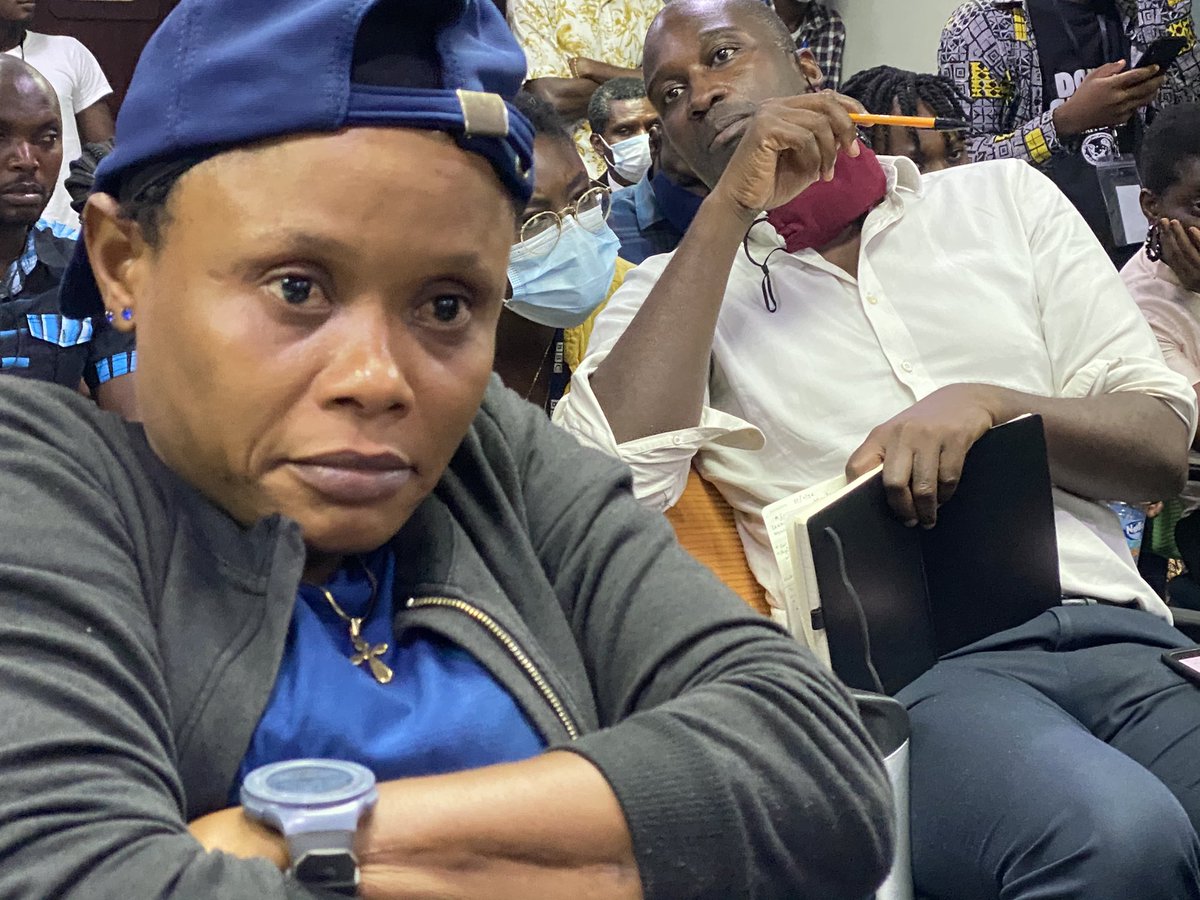 16:22 F: Who gave the command to shoot?

GT: The commander on the ground.

Fusika says the day after the shooting, there were bullet marks, which were quickly filled with cement.

GT says it could have been anything that made the mark.

F: Why would anyone go to clean it up?
16:24 Army counsel objects line of question, saying it's opinion evidence.

However, the Army's entire presentation was opinion.

F: Do you know General Omata came to stop your men from shooting?

GT: He didn't. He came after non-kinetic means were used.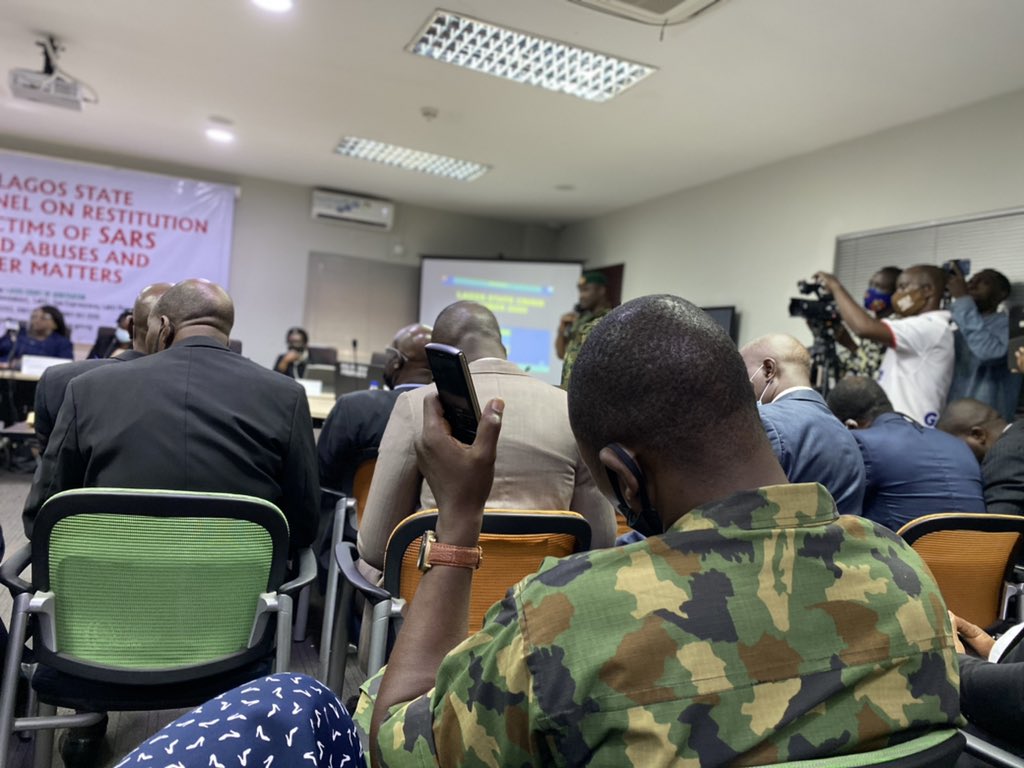 16:31 Fusika asks if anyone died. GT says no. Fusika says Governor said 2 died, as well as gunshots.

Fusika asks if governor is lying. GT says the information is incorrect.
16:35 F: When you were shooting in the air, were people running?

GT: Yes.

F: So if someone got injured running, it had nothing to do with you?

GT: No.

F: Governor says people were injured.

GT: The governor was misinformed.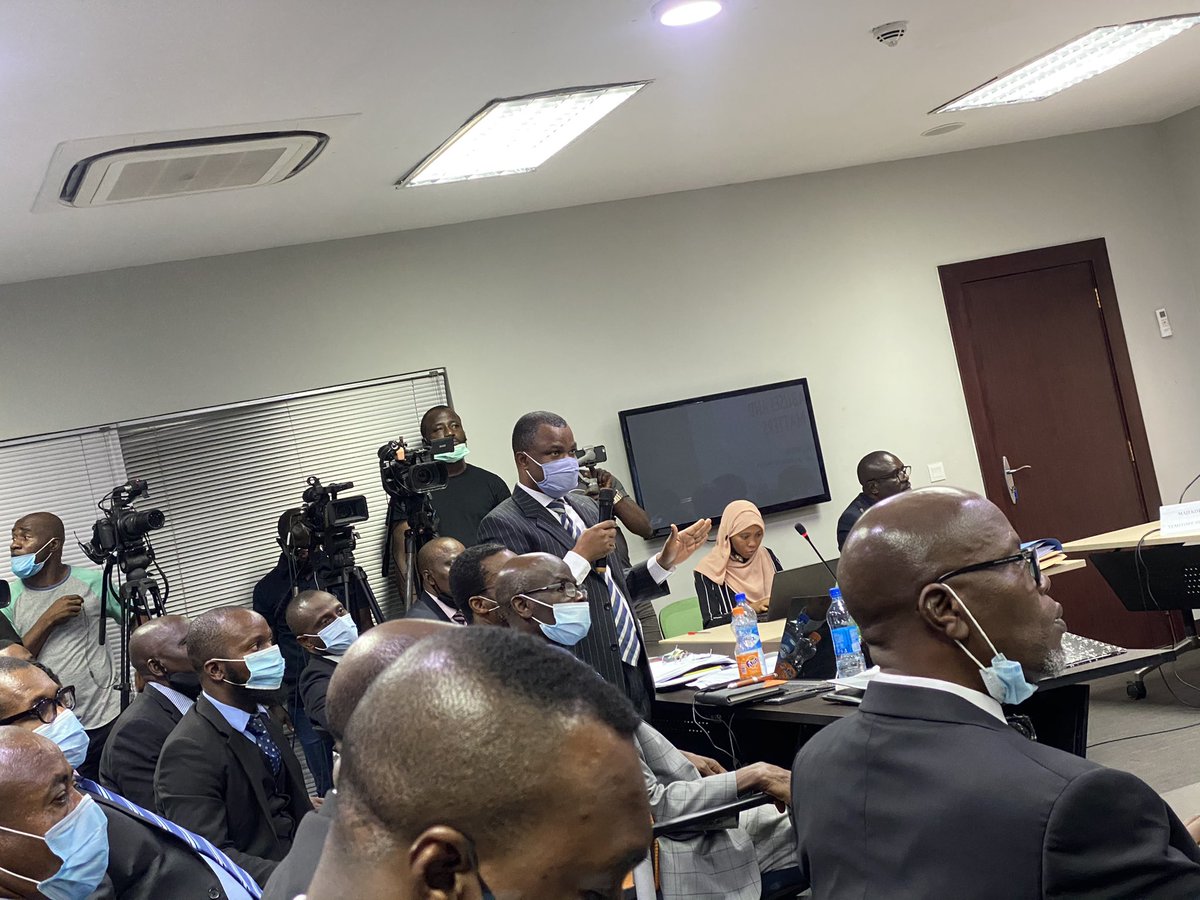 16:36 F: You also tendered a BBC report.

GT: Yes.

F: Because it flavoured your report? Was the BBC the only media that reported the #LekkiMassacre?

GT: The only one on the 21st. They had a reporter in the ground.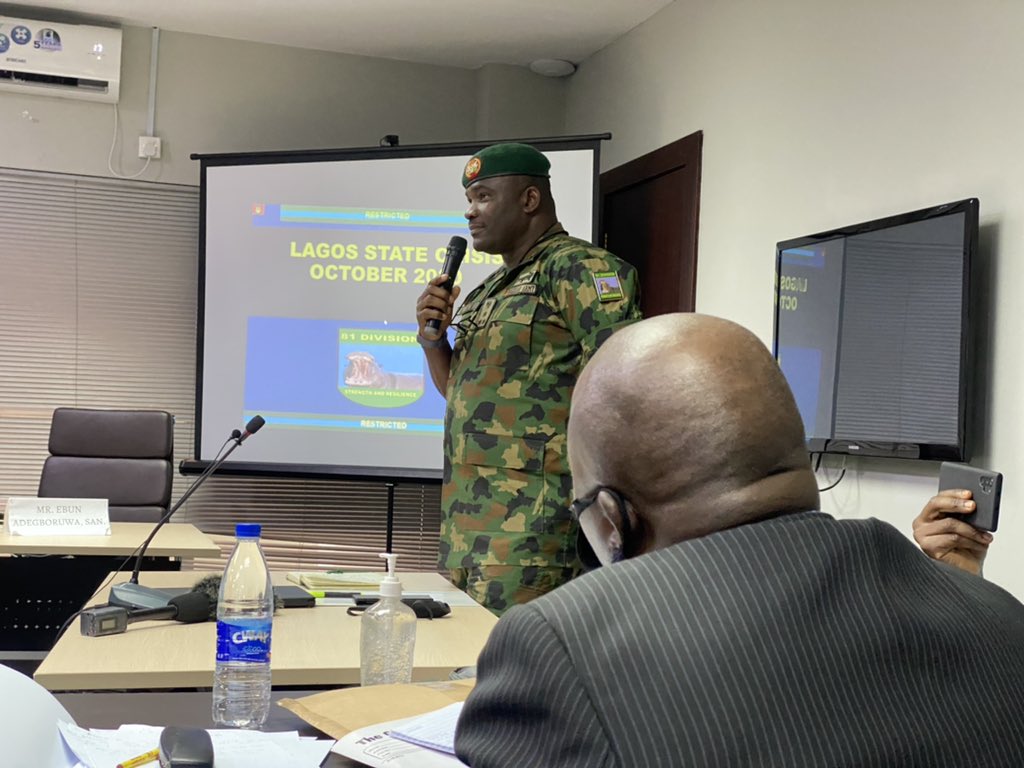 16:38 F: Was that the only international media that covered the incident?

GT: Recently, CNN has carried the Lekki incident.

F: What about DW, Aljazeera?

GT: I didn't. Because I was sleeping on the streets. The truth cannot hide.

GT says Fusika is denying the truth.
16:40 Fusika says the reason Army only presented the BBC report was that it was the only report that was palatable to the Army.

He then asks if the CNN report should be presented, Army counsel objects.

Fusika asks if Army is afraid of the content of CNN report?

Two fighting.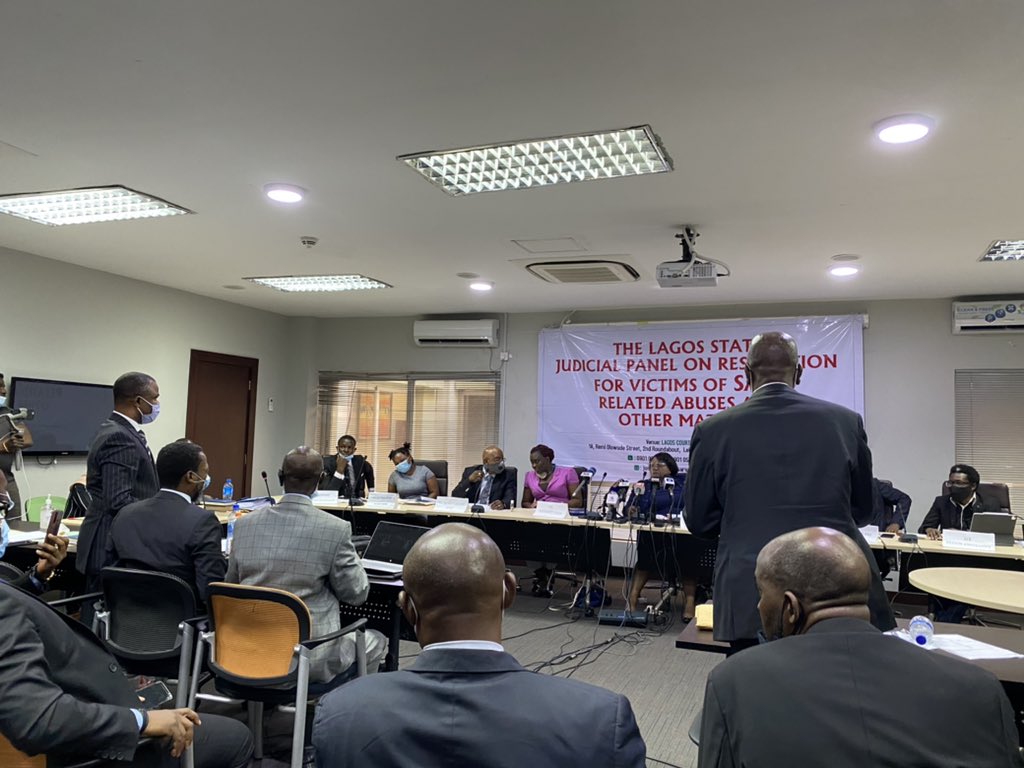 16:44 Mr. O is called.

Mr O: General, I'm suspecting you.

GT: Why?

MO: I'm suspecting you will tell the truth.

They talk about what being an officer and gentleman is.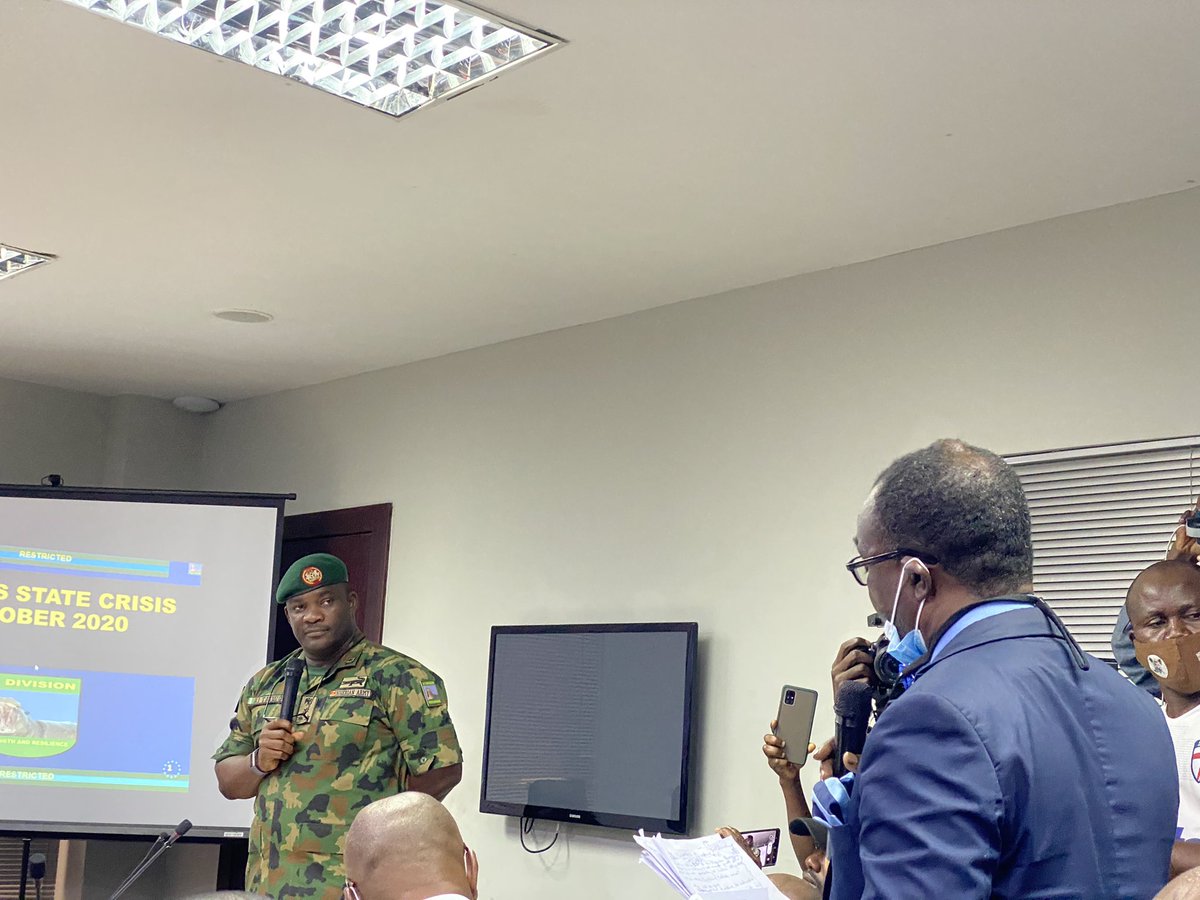 16:46 Mr. O: Why did General Omata have to come? Was it like Lt. Col. Bello wasn't doing a good job?

GT: It was operational

MO: Why was GOC and yourself have to call Gen. Omata to come check what was going on?

GT: I was getting conflicting reports from social media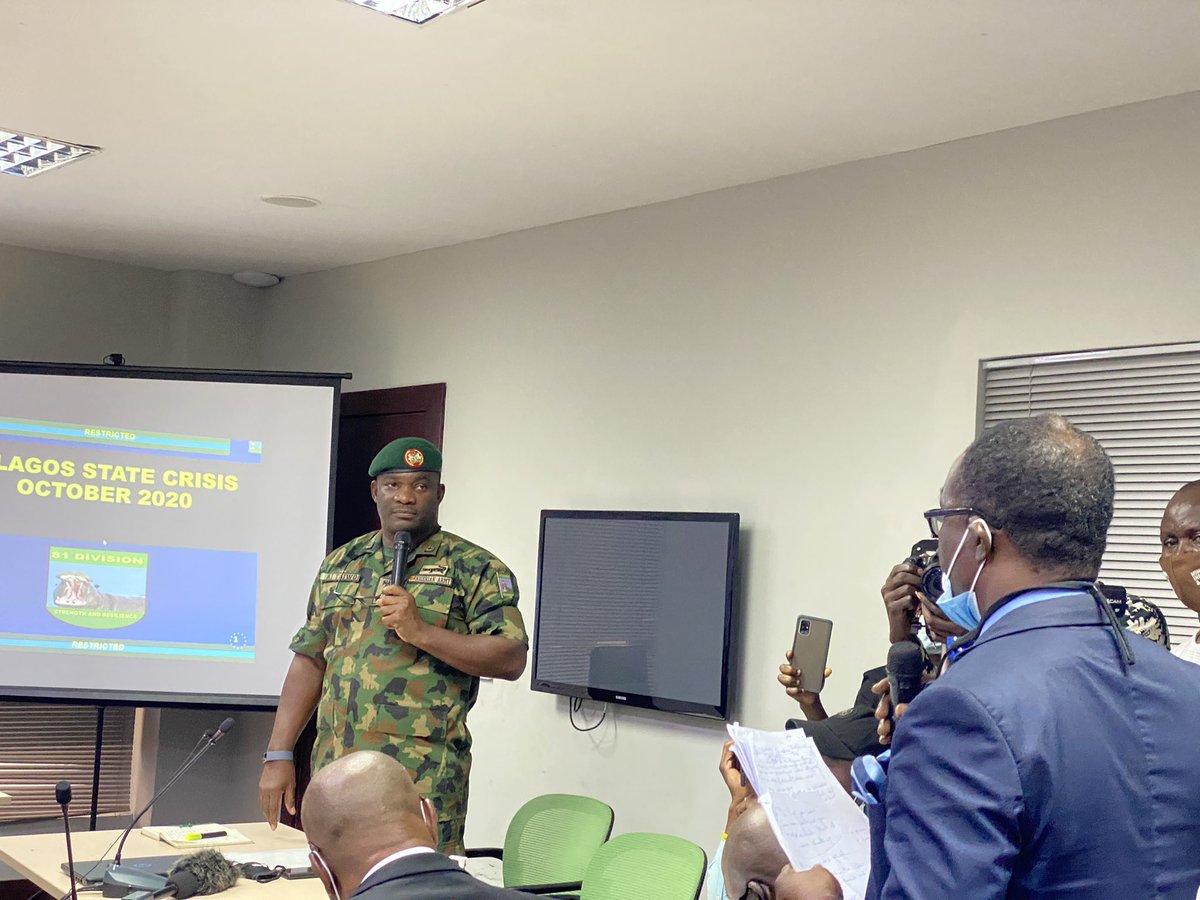 16:50 Mr. O: What were the conflicting reports?

GT: We we're getting streaming videos of people being shot, people screaming "They're killing us". When the first report came in, I dismissed it because no one sent anybody to disperse anyone.
16:51 GT says Lt. Col. Bello reported he was stoned LTC and he released shots into the air.

Bello (via Omata's phone) said no one had died, but two people fainted and were revived. (This is new information).

After consulting his records, GT confirms he made that call at 7:45.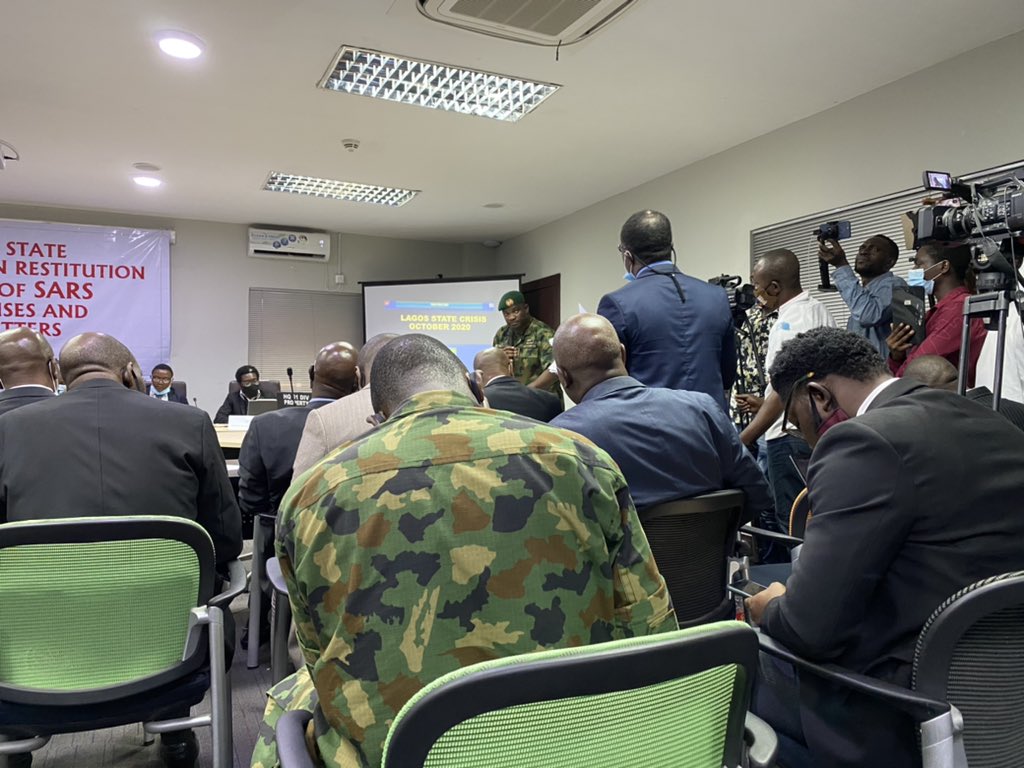 16:59 GT confirms that Chief Of Army Staff gave orders to activate internal security operations at about 15:00 20-10-2020.

Also confirms activating Phase 4 means police have been overwhelmed, so Army can deploy soldiers.
17:01 GT tells Mr. O that in activating Phase 4, soldiers are given both live and blank bullets.

He says there were peaceful protesters, but they had been infiltrated by hoodlums.

"That is why they were armed with blank ammunition in addition to live bullets."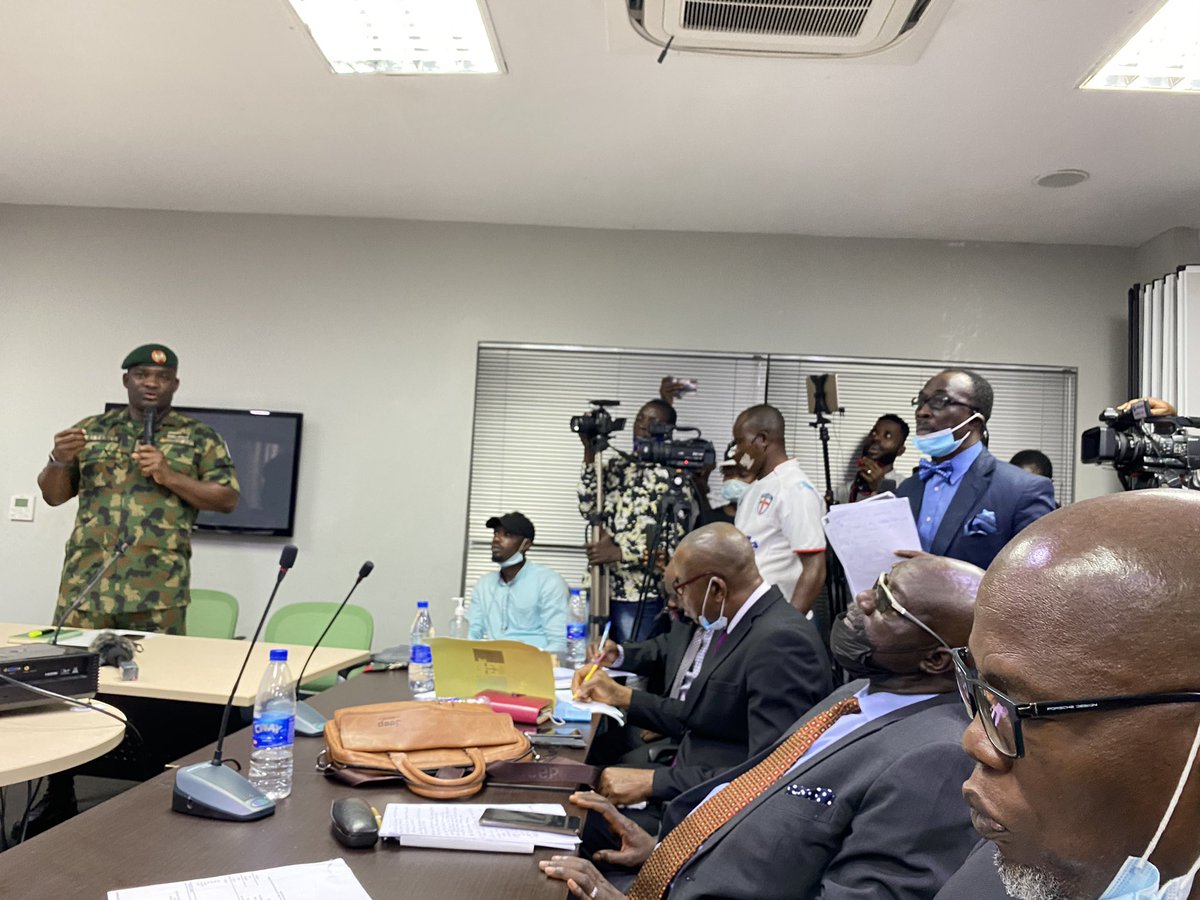 17:05 GT confirms blanks at close range can injure.

Mr. O: You said rules of engagement requires negotiation. Did you negotiate in Lekki?

GT: No, because soldiers were attacked.
17:07 Mr. O: You said your men was deployed all over Lagos, would you agree it was only in Lekki that it was controversial.

GT: Yes.

Mr. O: You told @jidesanwoolu you were disappointed in him?

GT: Displeased.

MO: Why?

GT: Because he said he didn't ask Army to intervene.
17:09 GT: Perhaps @jidesanwoolu misunderstood his own request to the Army.

This is an unprecedented indictment of the governor of Lagos State by the Army representatives.
17:11: Mr. O notes that Army sourced it's own videos from the internet.

Mr. O is requesting one of those videos to be replayed.

The voice on the video says "they're shooting at the protesters". This is the army's own video.

Mr. O emphasizes on "...shooting at protesters".
17:17 GT says they only said "they're releasing fire", but Mr. O has the video replayed and it clearly says protesters are being shot at while on the ground.

It's accepted that the army's own video shows witness saying protesters are being shot at.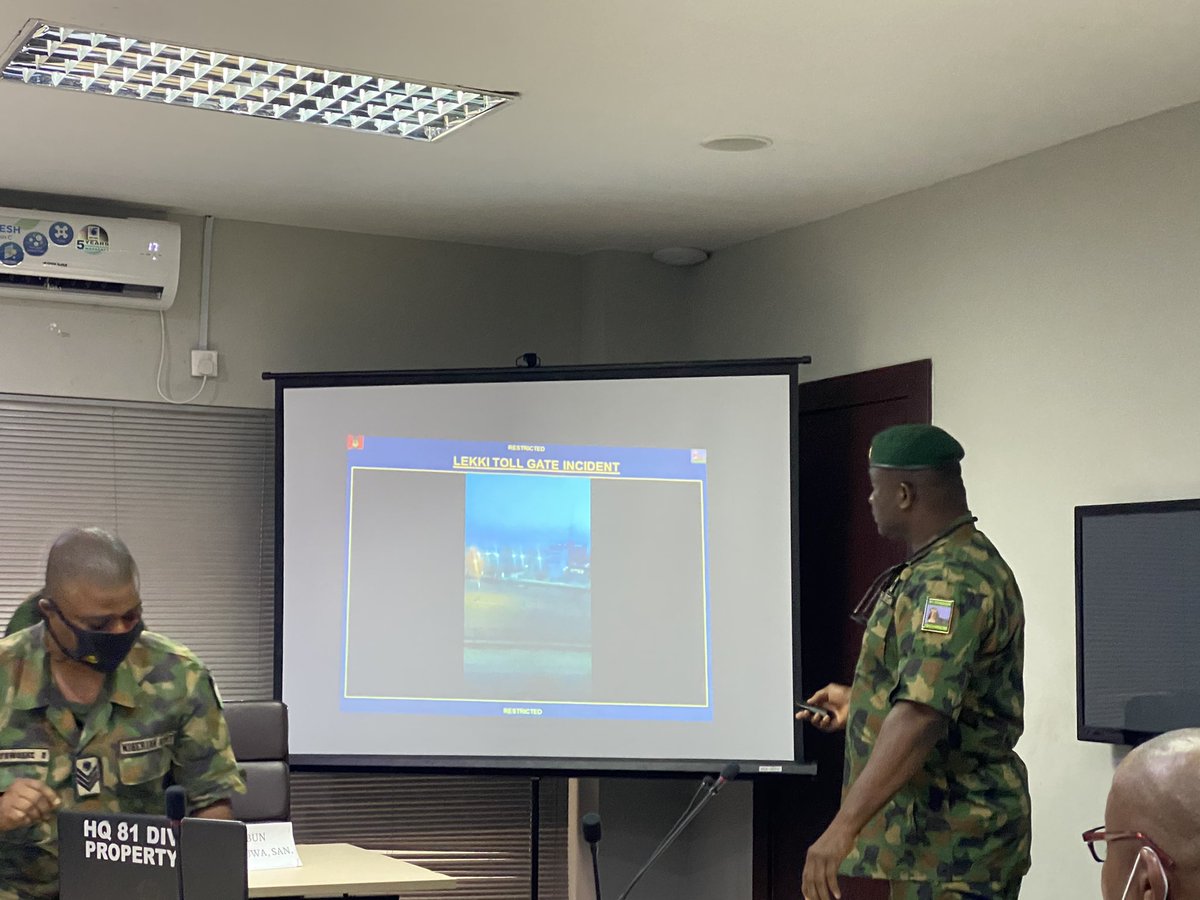 17:19 Mr. O has now another video to be played. In that one, protesters are saying "Soldiers have killed someone here". The person is bloodied on the ground.

GT agrees the video is showing a wounded person, but says they discovered it was a fake video.

This is their own deck.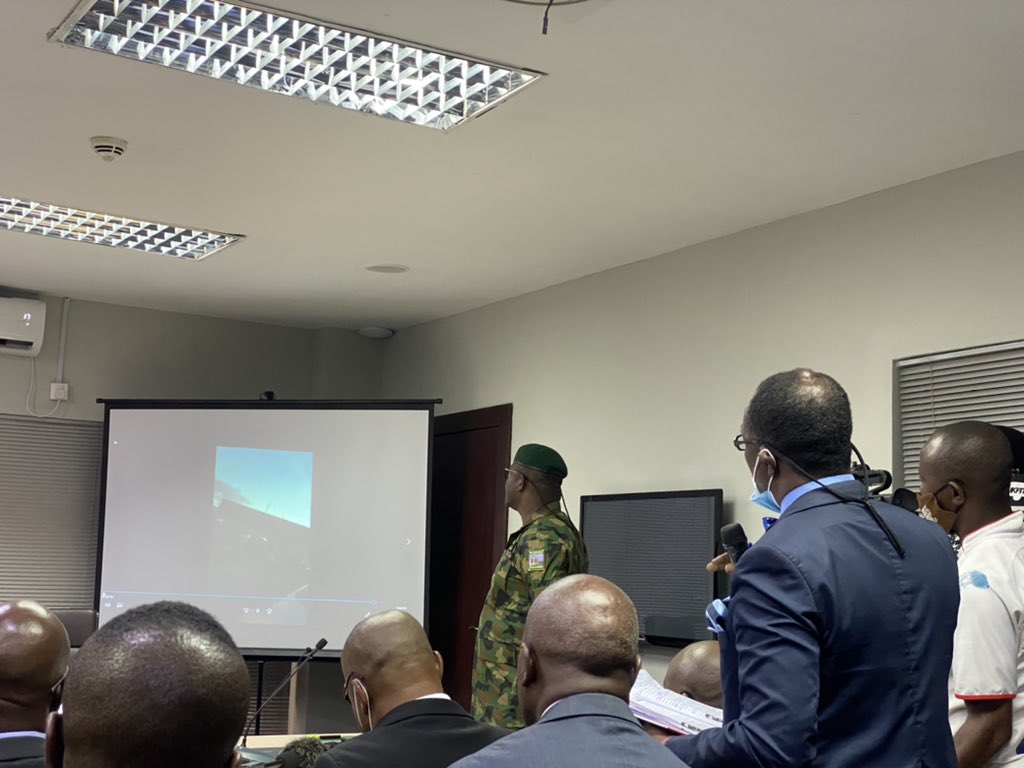 17:22 Yes another video from the Army's presentation is shown. Sounds of gunshots are heard as protesters are gathered.

GT says the videos were manipulated. Mr. O asks how (audible gasps from crowd).

Army counsel objects. Small fight. Counsel says GT should not be "stampeded".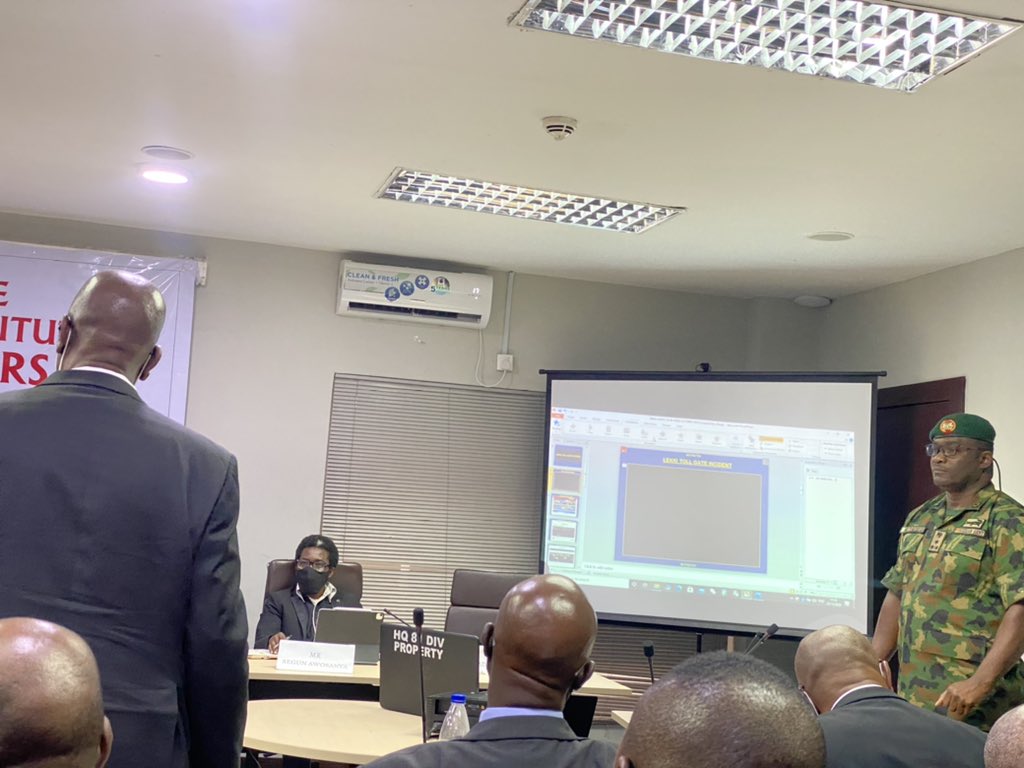 17:27 Mr. O continues after Army counsel thanks the chair for protecting GT.

He submits that the Army doesn't have video record of the incident, but relied on web videos.

Chair remarks GT's fitness as he's been standing for hours. True, true. Man is fit.
17:30 Mr. O "As of the time your men arrived Lekki tollgate, were the people there in breach of the curfew?"

GT says in hindsight, the curfew had been extended, but notes they weren't there to enforce. He does accept the protesters were not in breach of the curfew.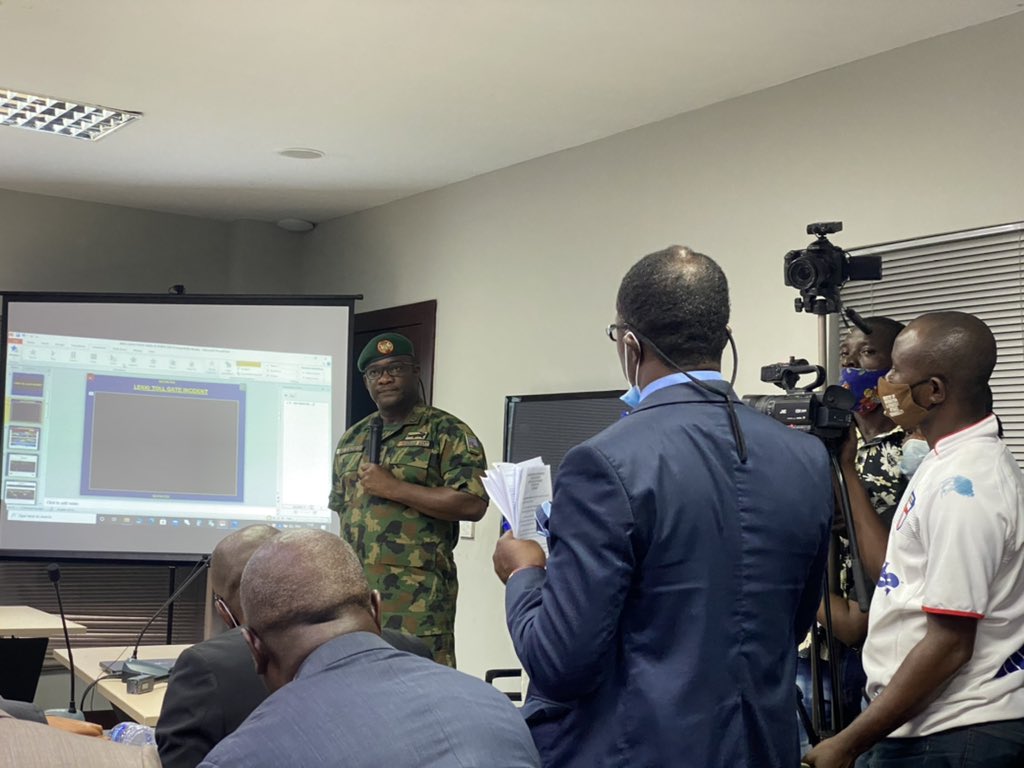 17:34 GT says 9th Brigade commander is member of state security council, and governor called him (about the curfew details).

He also states breakdown of the state became apparent on 20th, that violence had not crept in as of 18th (even though there were incidents of extortion).
17:36 "General, you're from my state. I've done my own intelligence" ~ Mr. O.

Having done his work, Mr. O jogs out of the room.
17:39 NBA rep has registered presents and pleased to ask question. Given leave to ask 3 questions.

NBA says it's 4.

Q1: There is an alternative route. Why didn't you take that?

GT: It's the discretion of the commander.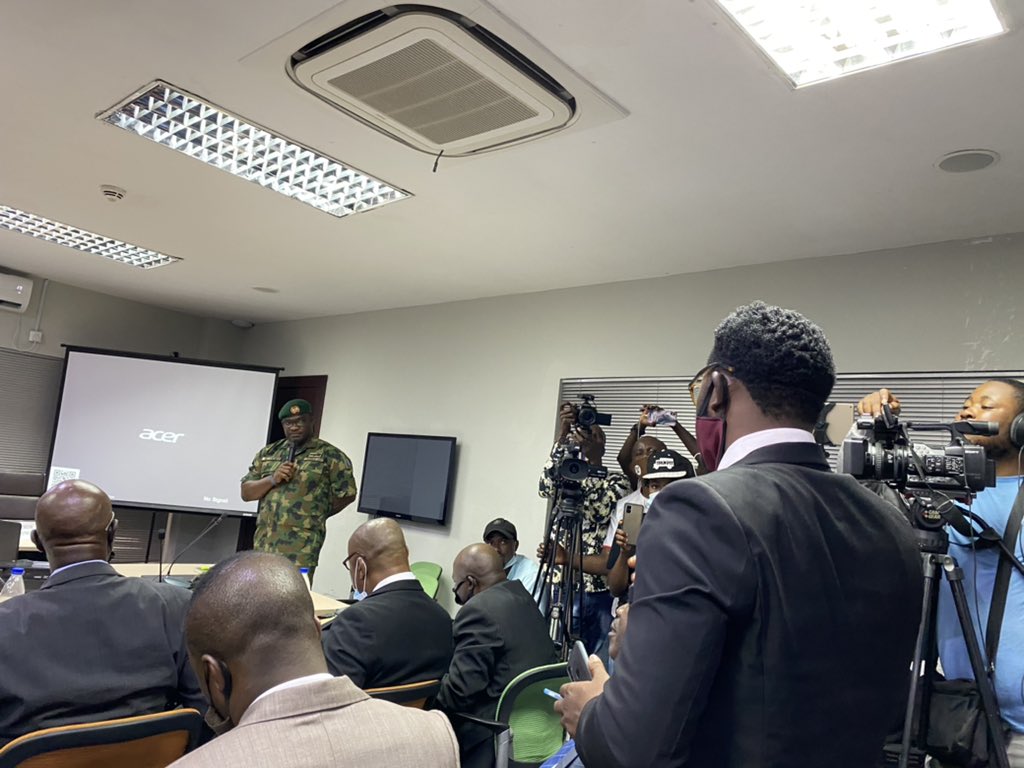 17:41 Q2: If stones are pelted at soldiers, is it ok to shoot?

GT: You cannot reply with stones. You shoot.

Q3: Do you regard us non-military as bloody civilians?

GT: We were civilians before the army and will be civilians after.
17:42 Q3: Are you aware there was violence in reaction to your engagement in Lekki on 21/10/2020.

GT: I don't know the connection between Lekki Toll Gate and businesses. It looked like settling of scores. If people were upset about Army, they should have burned Army barracks.
17:46 Q4: Given the circumstances, if you have the same situation today, would you react the same way?

GT: Yes, given the same information and circumstances.

Army counsel, a SAN tells NBA guys "My fren, sit dahn!"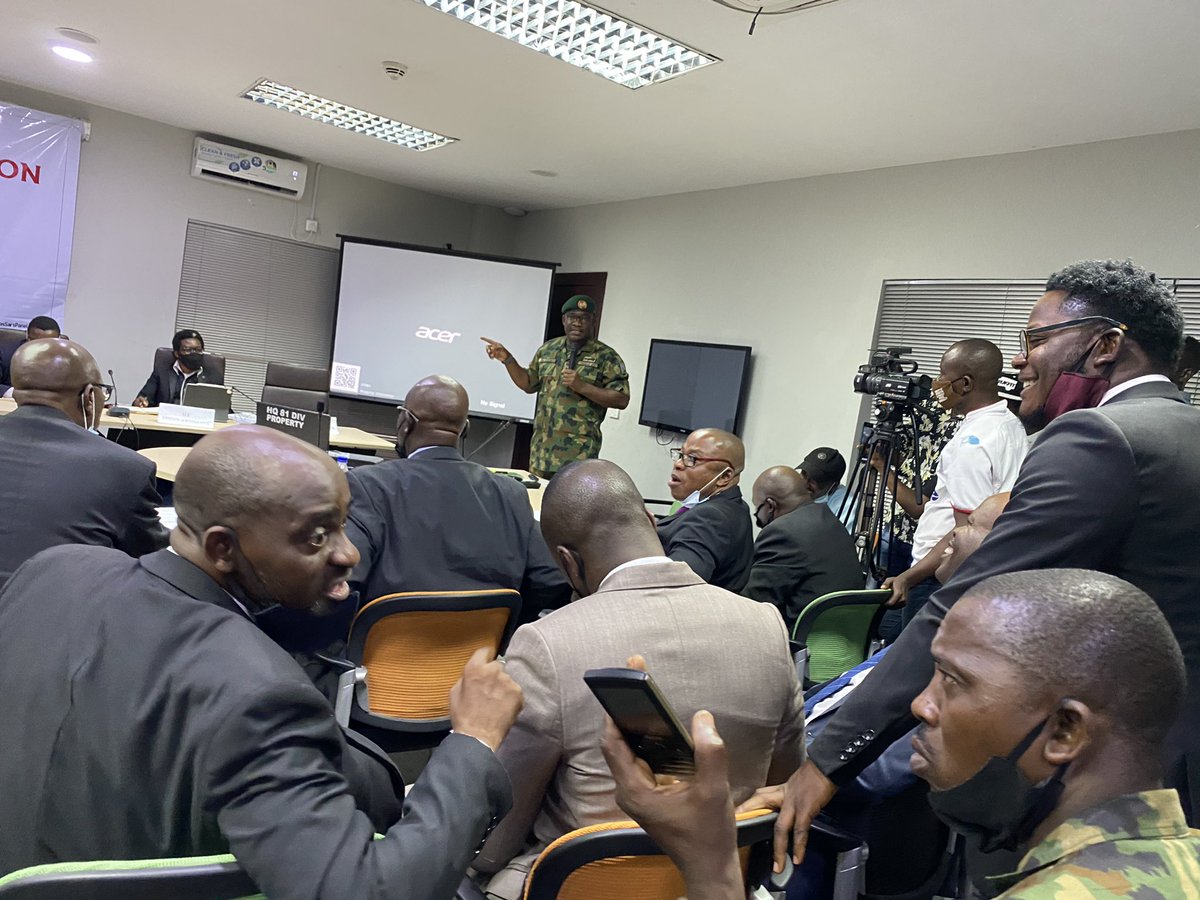 17:49 Army counsel asks the General Taiwo be discharged.

Mr. O is up and asks for permission to do ballistic investigation. He's given leave to do so privately.

Everyone is tired. No more objections. Only General Taiwo is standing. He's been on his feet since 15:10.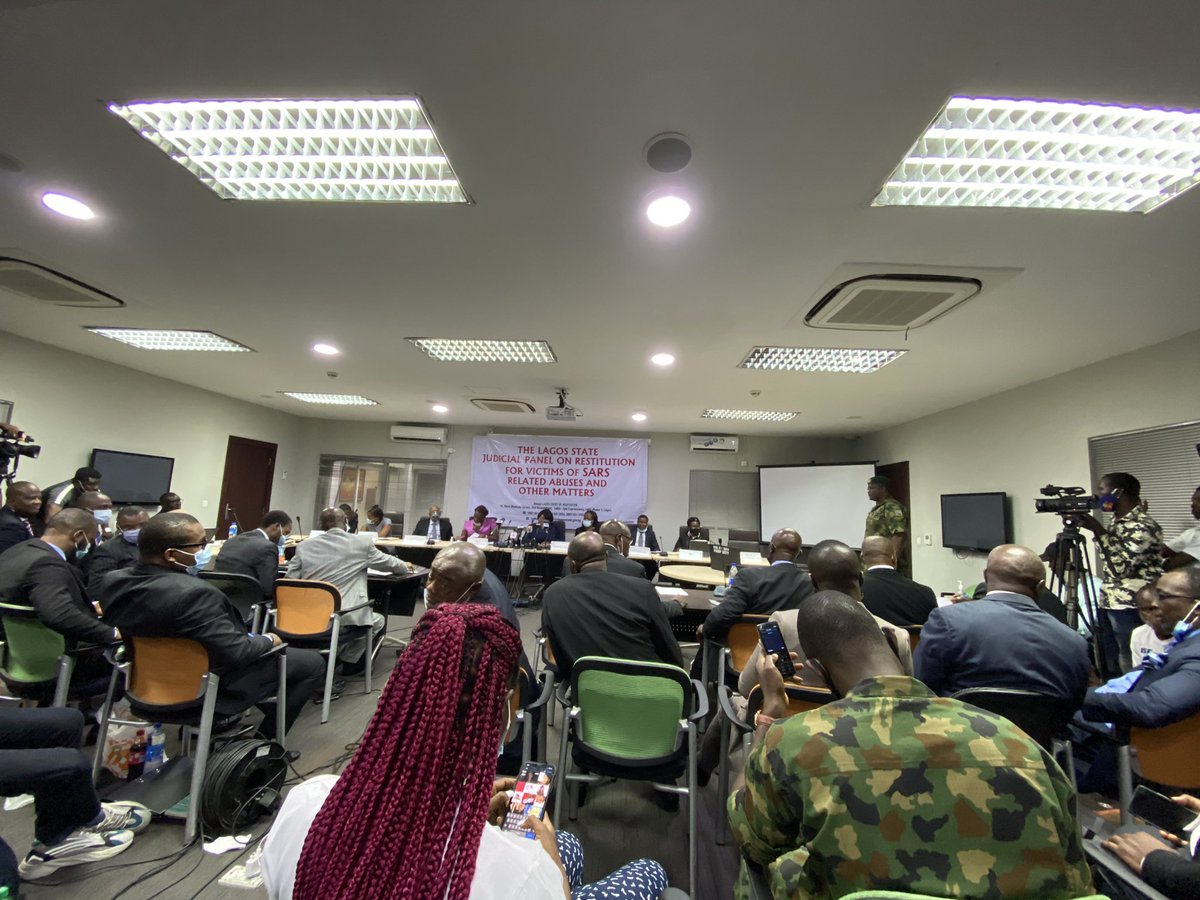 17:53 General Taiwo is discharged. Army counsel says that's all the Army has to say.

Chair says Army summons still exists, and panel expects appearance, not affidavits.

LCC counsel is up, asking again for permission for them to take posession of the toll gates for repairs.
18:06 Army counsel says summonses were not given, but Chair insists that she expects appearances.

LCC says MD is traveling so wants earlier date to conclude cross examination. Friday is set.

Mr. O objects LCC request to take back toll gate, that LTC needs to be kept as is.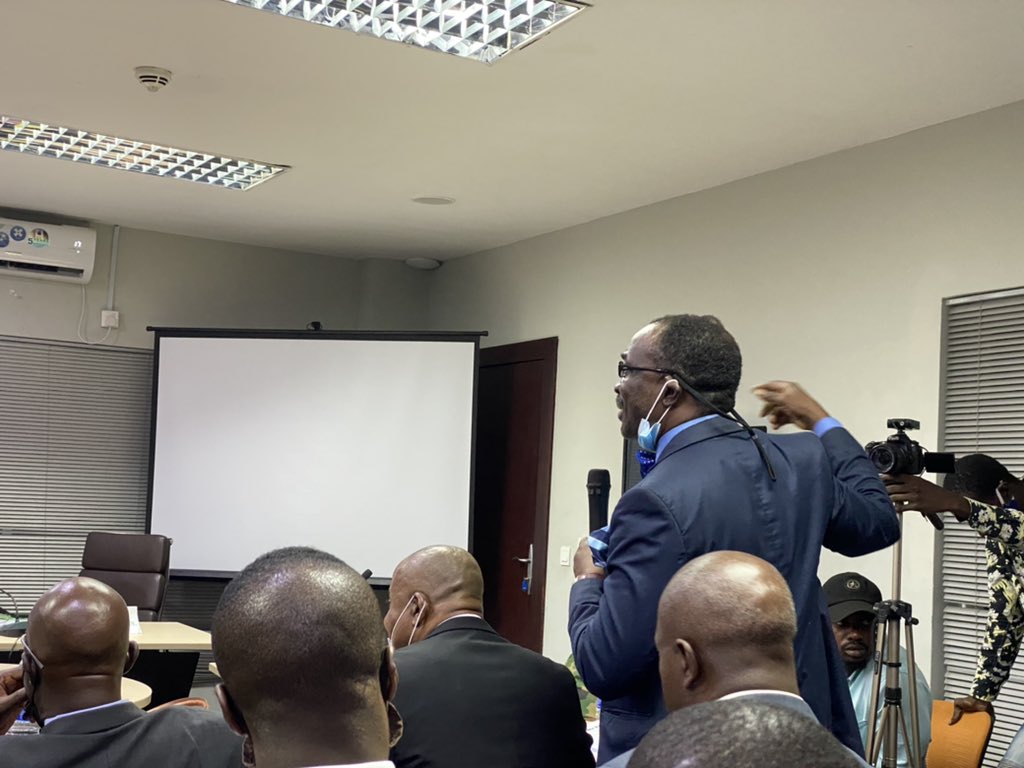 18:12 Chair denies LCC request, as inquiry still ongoing. However gives 2 weeks for conclusion of evidence gathering.

Panel adjourns.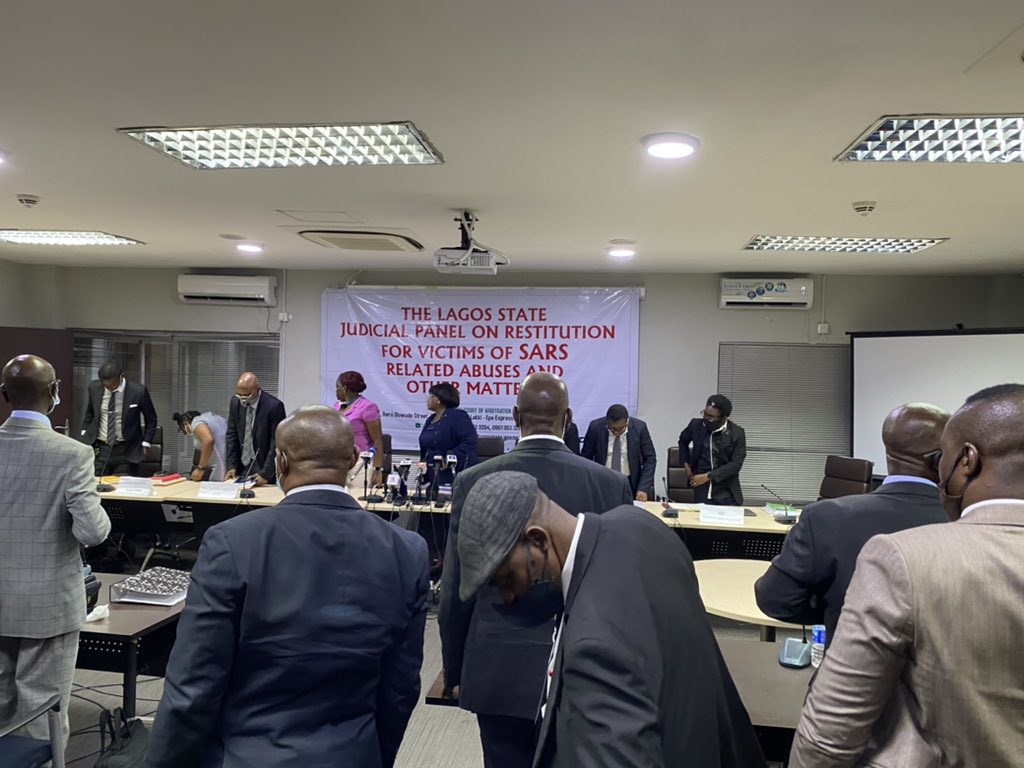 18:18 There is a small protest outside the panel. "FREE NICHOLAS MBAH" a protester reportedly arrested and detained for the past month.

The protest looks to have been arranged by Mr. O's group. As General Taiwo is passing by, the group asks him to join them. He says hi.